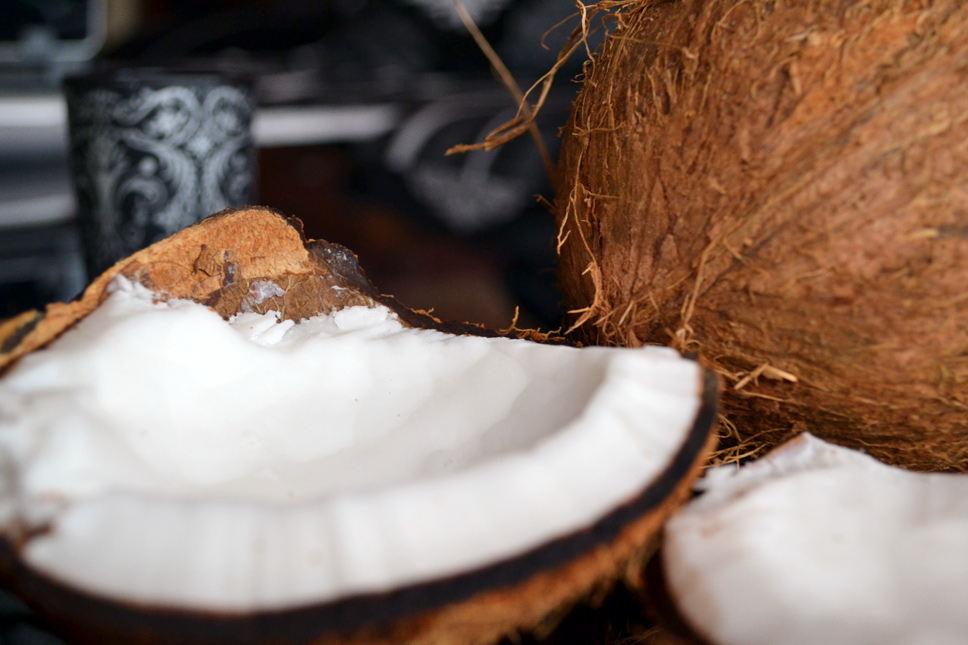 Hello, folks,  for a long time I had not written something for a healthy lifestyle. Because I love coconut, I decided to do some photos and share its benefits. It is very popular fruit not only in cooking, but also in cosmetics. Known as a superfood is ideal for your healthy lifestyle. This is a fruit that delivers real fat in your body, which are very useful. Our body needs fat and contrary to the many diets that deny them, we should receive them for our body to function properly. Coconut is ideal for this purpose. Anyone can dig around the internet and find any useful information, I am aware that many of you know these things about the coconut. But I gathered briefly some facts that I think you should let them know. I begin with that in the tropics called coconut palm "tree of the life". We can draw many conclusions from this.

 Здравейте, от доста време не бях писала за някоя здравословна супер храна и тъй като обожавам кокос реших да направя няколко снимки и да споделя неговите полезни свойства. Той е широко разпростанен не само в кулинарията, но и в козметиката. Познат като суперхрана, е идеален за здравословния ви режим. Това е плод, който доставя истински мазнини на тялото ви, които са много полезни. Нашият организъм се нуждае от мазнини и противно на много диети, които ги отричат, ние трябва да приемаме такива, за да функционира тялото ни правилно. Кокосът е идеален за тази цел. Всеки може да се порови из интернет и да намери всякаква полезна информация, наясно съм, че много от вас си ги знаят тези неща. Но аз съм събрала накратко няколко факта, които смятам, че трябва да ги знаем. Започвам с това, че в тропиците наричат кокосовата палма "Дърво на живота". Можем да си извадим много изводи от това.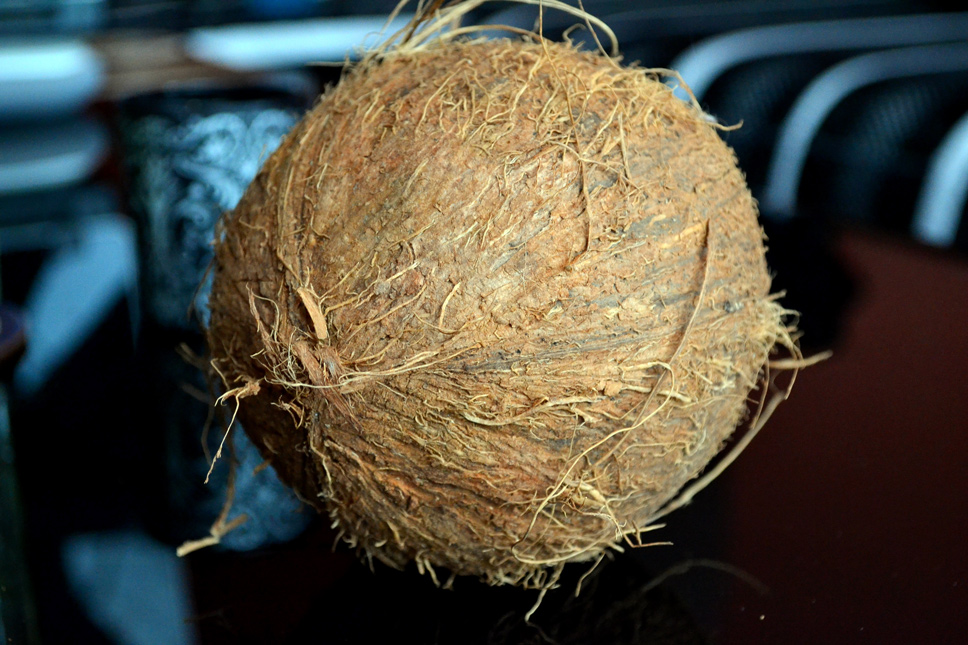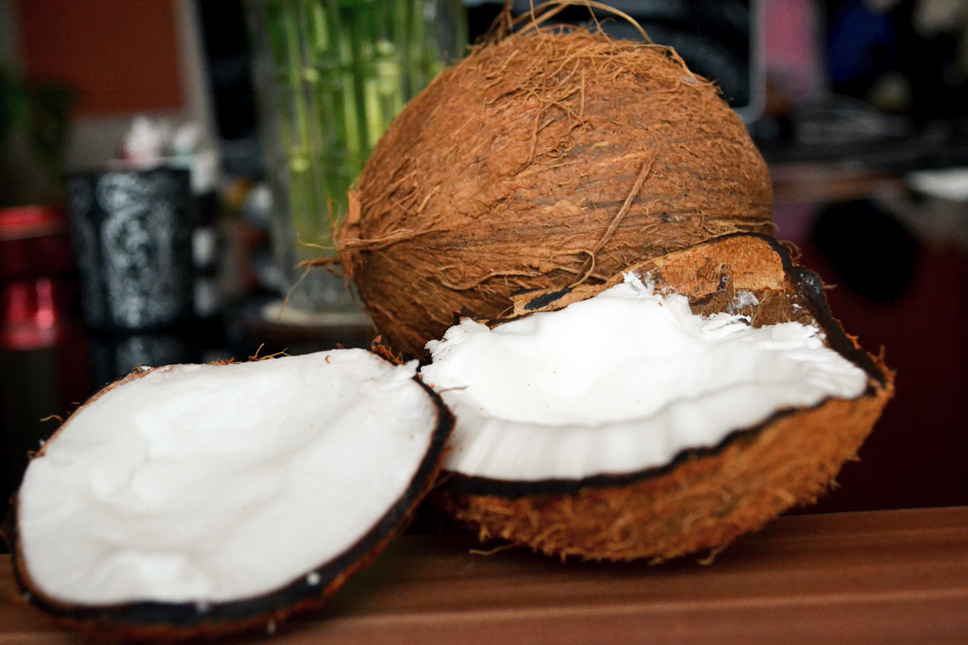 Coconut juice is extracted from immature fruits and it is transparent, it's free from fats and is used to quench the thirst. It is recommended to consume during an intense workout. It is low-calorie, so you can safely enjoy it often without being guilty 😀 Coconut milk even comes from ripe fruit and it is white in color. Saturated of fats. Has an incredible scent and taste (even now I imagine it). It is very beneficial to the cardiovascular system and contains amino acids, vitamins, etc. It should not abuse, especially if you are on a diet.
I recommend you using coconut to make sweets or other food use coconut meat, instead coconut flakes. Because they do not contain the beneficial properties of the fruit, they are dried and pressed and their juice is extracted. Of course, you can make your own. And homemade coconut milk too. For that you sliced meat of the coconut, pour water and let this to sit overnight, then strain through cheesecloth. Also known in the confectionery is coconut flour or coconut oil. Its application is so huge that I do not bore you with all the information. As a cosmetic effect – give a smoothness and softness of the skin.

 Кокосовият сок се извлича от незрели плодове и е прозрачен, в него няма мазнини и се използва за утоляване на жаждата. Препоръчително е да се консумира при големи физически упражнения. Той е нискокалоричен, така че спокойно може да му се наслаждавате често без да ви е гузно :D. Кокосовото мляко пък се добива от зрели плодове и я бяло на цвят, наситено с мазнини. Има невероятен аромат и вкус (даже в момента си го представям). Много е полезно за сърдечно-съдовата система и съдържа аминокиселини, витамини и т.н. С него не трябва да злоупотребявате, особено ако сте на диета.
Препоръчвам ви като използвате кокос за направата на сладкиши или други храни, да слагате месото от кокосов орех, вместо кокосови стърготини. Защото те не съдържат полезните свойства на плода, те са сушени и пресовани и от тях е извлечен сока. Разбира се, може да си направите домашни. Както и домашно кокосово мляко, като нарязвате месото на кокоса, сипвате вода и оставяте да престои през ноща, след което прецеждате през марля. Също така известни в сладкарството са кокосово брашно и кокосово масло. Приложенията им са толкова големи, че не мисля да ви отегчавам с всичката информация. Като козметичен ефект – имаме гладкост и мекота на кожата.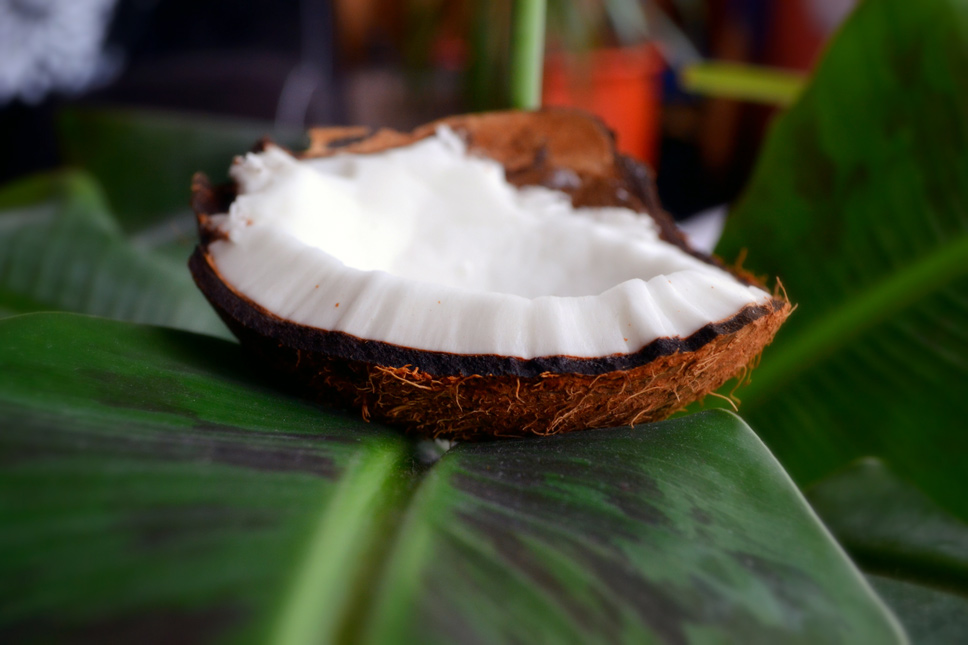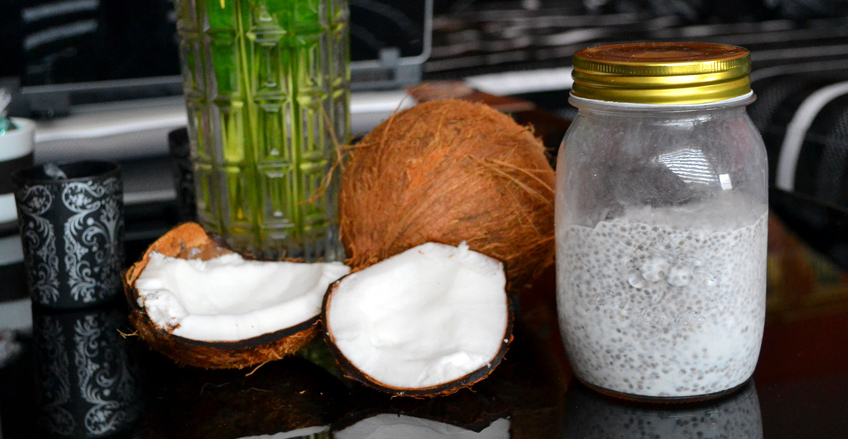 I love to eat coconut, as I cut it into small pieces. Can be added in smoothies too. My favorite recipe – milk (optional), chia seeds and bits of coconut. Put one night in the fridge. The next day, put slices strawberries and have a nutritious and delicious breakfast – Chia Seed Pudding. You can make with coconut milk, is very nice and gentle at taste. Low in calories. How you prefer to eat the coconut?

 Аз обичам да си хапвам кокос, като си го режа на малки парченца. Може да се добави и в смути. Най-любимата ми рецепта е – мляко (по избор), семена от чия и парченца кокос. Слагате за една вечер в хладилника. На другия ден си нарязвате парченца ягоди и имате пълноценна и вкусна закуска – кокосов чия пудинг. Може да направите с кокосово мляко, много е приятно и леко. С ниско съдържание на калории. А вие как обичате да си похапвате кокос?