When it comes to shopping for a dress for prom, strapless dresses seem to be a timeless choice, and they are available in a wide variety of styles. They are a great style for showing off your neck and shoulders, which shouldn't be hidden under sleeve and ruffles.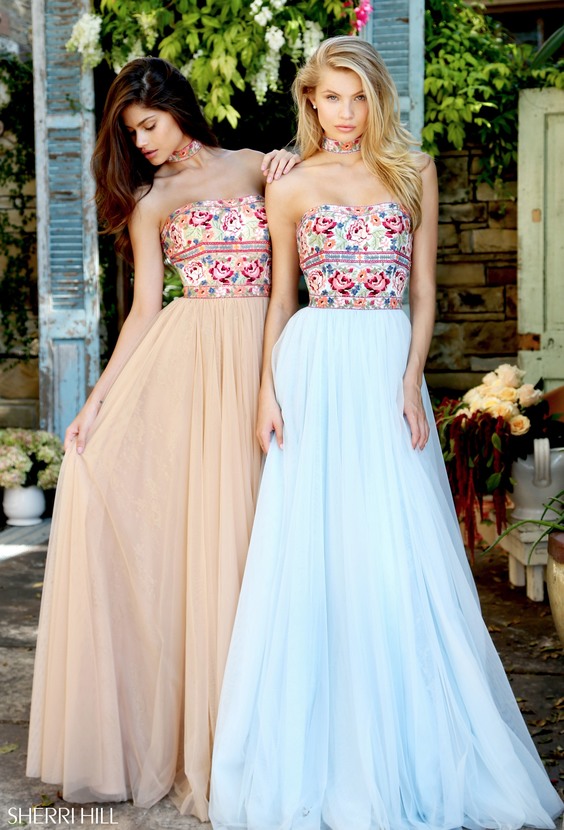 Different Styles of Strapless Gowns
When it comes to prom dresses, all waist and skirt styles can be found in a strapless variety, from ballroom gowns to A-line, high-low, empire, mermaid, mini, and even tulle. You should have no problem finding the perfect colour that flatters your skin tone, too, just be sure to purchase prom dresses early to get the one you've been dreaming of. If you're not too sure that you do want a strapless dress, though, there are some dresses that come with straps that can easily be removed. Try on both varieties and see which looks best on you, and which you are most comfortable in.
Many of the strapless dresses on the market boast lovely embellishments and sweetheart bodices. Just remember to keep your body type in mind when it comes to the bottom of the gown and the waistline.

Tips for Picking the Perfect Strapless Prom Dress
Strapless dresses are a very popular choice for prom. Since there are so many types to choose from, here are a few tips to find, and wear, the perfect one for you:
Make sure you find a dress that fits well.

If you are going to order your dress online, be sure to measure yourself a few times over. If the strapless dress doesn't fit well, it could make for an uncomfortable night. Make sure you order your dress early and try it on well before prom just in case it required adjustments.

Stay away from straight cut corsets if you are small busted, as they tend to make the chest look smaller and flatter.

Heart-shaped or princess bodices work better, particularly if it has a push-up bra sewn into it. If the dress you have your eye doesn't have a sewn in bra, you may want to think about a strapless bra or even silicone stick on pads.

Pick a style.

Do you want your dress to be simple and classy? Maybe you'd prefer a few embellishments? Or perhaps you want the fanciest strapless gown you can afford. It's okay if you're on a tight budget, there are amazing dresses out there are great prices.

Be sure to keep your upper chest, neck, arms, and shoulders in good shape and look after your skin so that you look good in your dress. You may want to book a relaxing spa day a few days before prom for an exfoliation to get that skin shining.

Think about the accessories and shoes you want to wear with your dress.

One of the nicest things about strapless dresses is that you can pull off wearing statement necklaces, bracelets, or armbands – just don't try to wear them all together! As for shoes, shorter skirts and high-low dresses work well with higher heels, whereas floor length gowns work better with lower heels or even flats.
If you're getting ready to shop for prom dresses, keep these tips in mind when shopping for a strapless dress, and you're sure to find something special.