EN: There are so many fashionable ways to wear a blazer! It's perfect for any occasion and can instantly turn a simple outfit into a street-chic one! Stocking up on blazers is always a good idea. It's great to have them in your closet because you'll make great use of them! Check out for cheap women's fashion blazers http://www.tidebuy.com/c/Blazers-100569/.
I will show you 3 types of blazers who every woman should have in her closet!
 BG: Има толкова много модерни начина да носите блейзер! Той е идеален за всякакви поводи и може мигновено да превърне един обикновен вид в модерен стрийт шик! Купуването на блейзери е винаги добра идея. Чудесно е да ги имате в гардероба си, защото са наистина от голяма полза! Проверете за евтини дамски блейзери на  http://www.tidebuy.com/c/Blazers-100569/.
Ще ви покажа 3 модела блейзери, които всяка една жена трябва да има в гардероба си!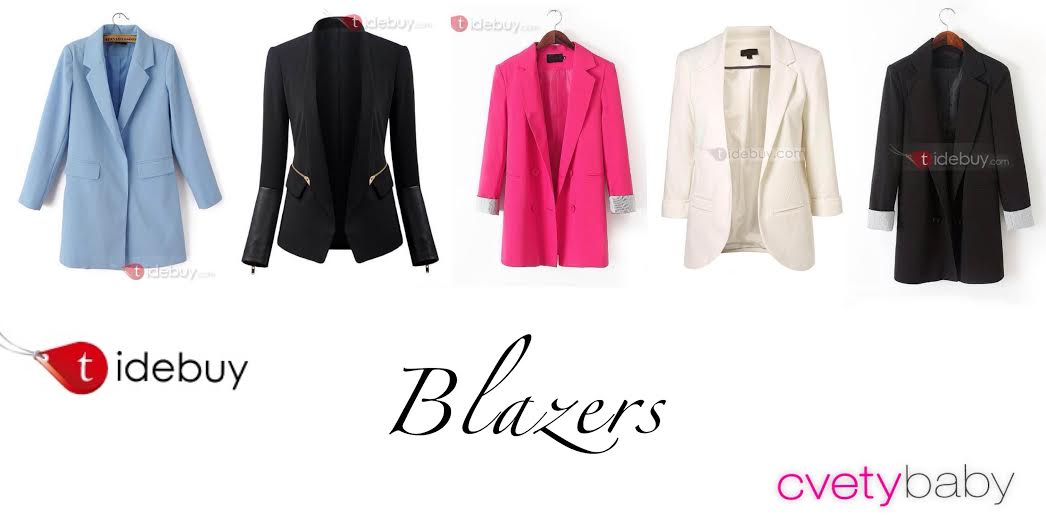 EN: White Blazers are a chic way to freshen up an outfit. They are ideal for wearing during the spring/summer months, you can also make white blazers work as stylish transition pieces.
BG: Белите блейзери са готин начин да освежите тоалета си. Те са идеални за сезон пролет/лято, може да се носят също и през прехода на сезоните. Изглежат наистина стилно.
EN: The classic black blazer is a staple in any girl's closet, but how can you find the best black blazers out there if you don't know where to look first? The best black blazers will fit you beautifully, have a little unique twist to them and will be perfect for a day out with the girls or even for the office.
BG: Класическият черен блейзер е задължителен в гардероба на всяко момиче, но как да намерите най-добрите блейзери там, ако не знаете къде да ги намерите преди това? Най-добрите черни блейзери ще ви паснат идеално, като можете да ги облечете както на шопинг с момичетата, така и за офиса.
[vc_simple_slider ids="5392,5386,5388,5400,5401″ type="0″]
EN: The oversized blazer is must among clothing this season. Not only does it give a slightly manlier vibe to any look but it can also be quite warm and comforting.
BG: Широкият блейзере задължителен за този сезон. Той не само придава момчешка нотка, но също така  може да бъде много комфортен и естествено е идеален за по-студените дни.