Лято е (всички знаем). Навън температурите са доста високи, на места дори рекордни (54 градуса в Кувейт). Но това не означава, че трябва да седим вкъщи на климатик и да пропуснем да се насладим на слънчевите дни. Тъй като не може постоянно да сме на морето, все пак се налага да ходим и на работа. Днес реших да споделя няколко идеи как да се преборим с екстремните температури и да се насладим на разходка в парка.

 It's summer (we all know that). Outside, temperatures are quite high, sometimes even record high (54 degrees Celsius in Kuwait). But doesn't mean that you should to stay at home under the air conditioner and to miss the sunny days. As it cannot stay permanently on the beach, cause we have work to do. Today I'll share a few ideas how to beat the heat and how to enjoy a walk into the park.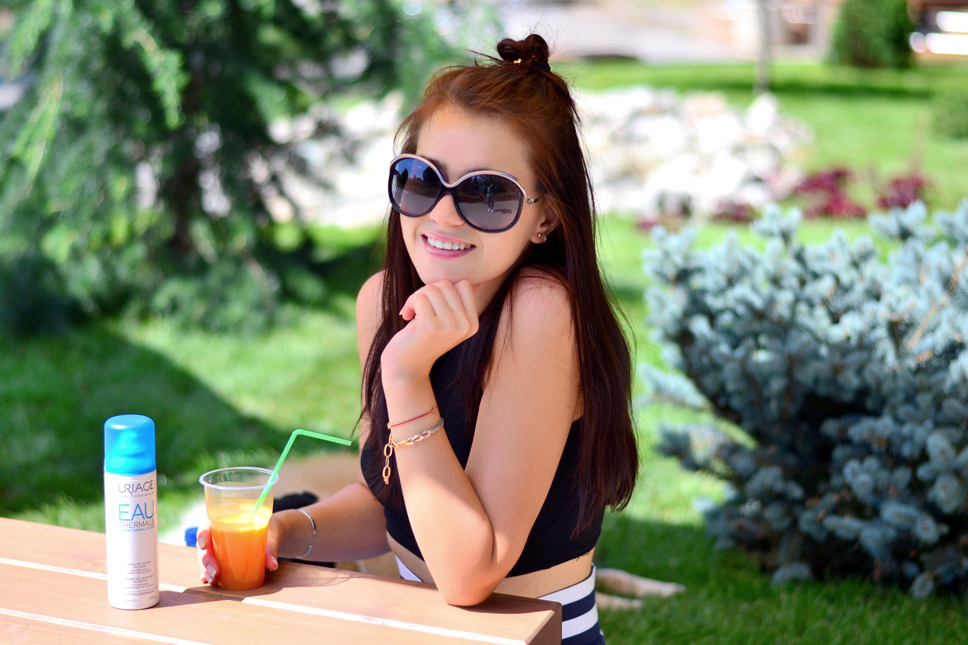 1. Започвам с приемът на течности, не напускайте вкъщи без шише вода. За добра хидратация на цялото тяло и поддържане на тонус през целия ден. Не пропускам да пия прясно изцедени сокове и смутита по всяко време, когато имам възможност. Ако сте на кафе/сладкарница с приятели, избирайте винаги прясно изцедените сокове, вместо примамливите коктейли тип лимонада с газирани напитки в съдържанието си.

 1.My first rule  – don't t leave your home without a bottle of water. For a good hydration of the whole body. Don't miss to drink freshly squeezed juices and smoothies anytime when you have a chance. If you are a restaurant or cafe with friends, choose always fresh juices, instead of tempting lemonade cocktails  with soda into their content.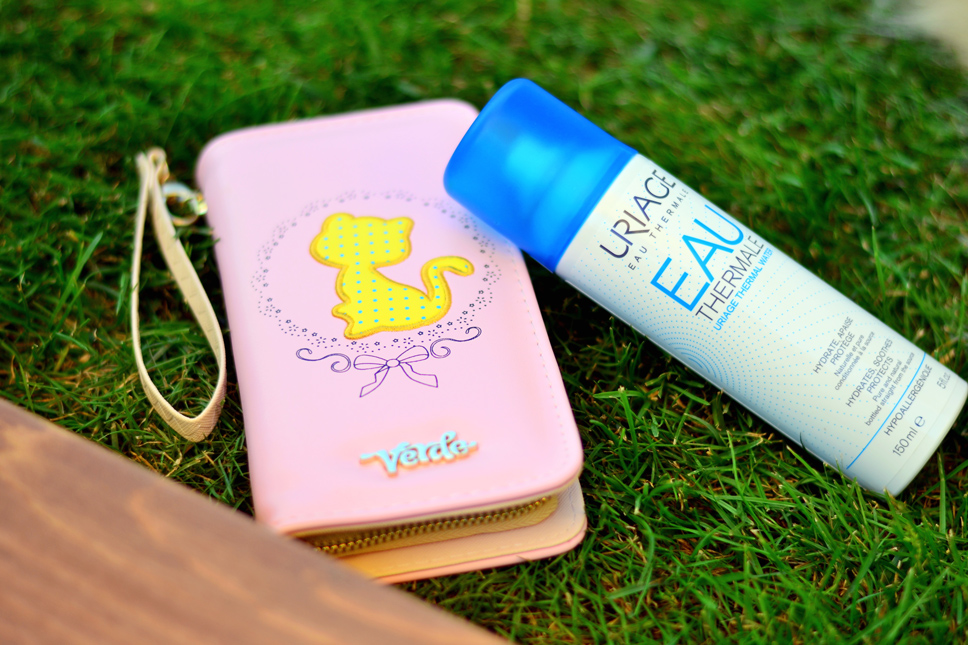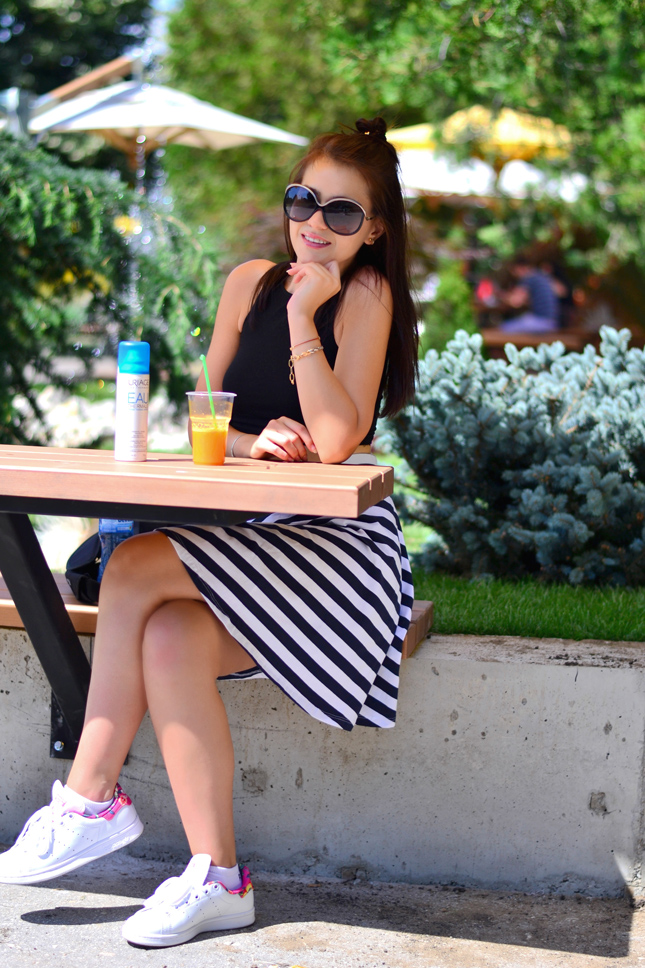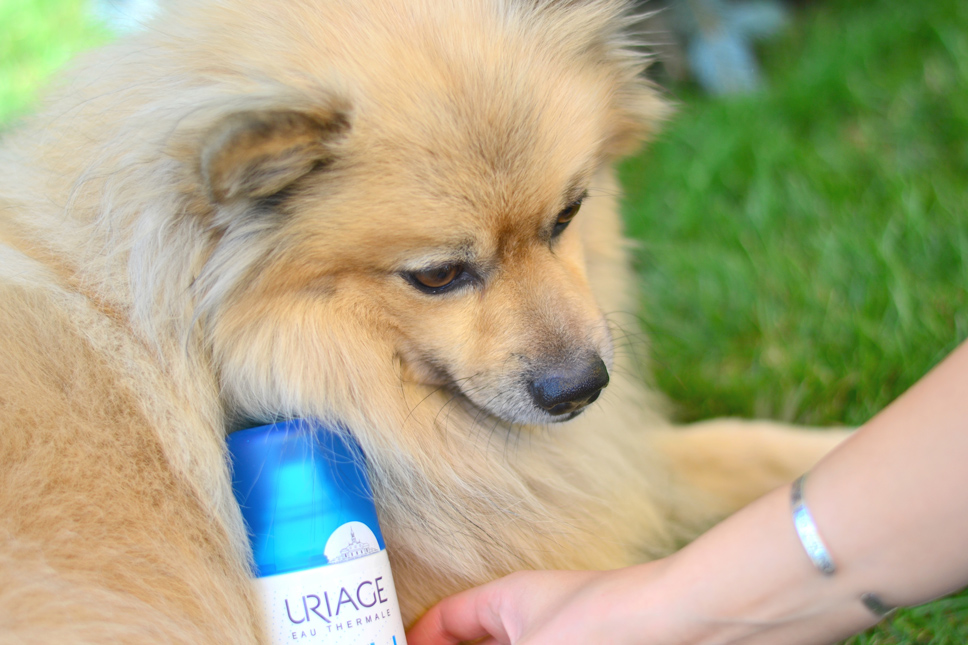 2. Любим козметичен продукт, без който не излизам е термалната вода. Най-често се доверявам на Uriage. Тъй като пускат идеални промоционални пакети. Преди няколко месеца, имаше много добра оферта –  два броя по 300ml на цената на един, около 20 лева. Перфектен избор за плажа, там определено ми е нужен по-голям флакон. Като цяло продукт, който използвам постоянно и ме освежава най-добре през жегите.

 2. Beauty product, without which I don't leave my home is a thermal water. My favorite one is Uriage Eau Thermale. As the brand have perfect promo packages. A few months ago, there was a very good offer – two bottles of 300ml at the price of one. Perfect for the beach, there I definitely need a bigger bottle. Product that I use 24/7.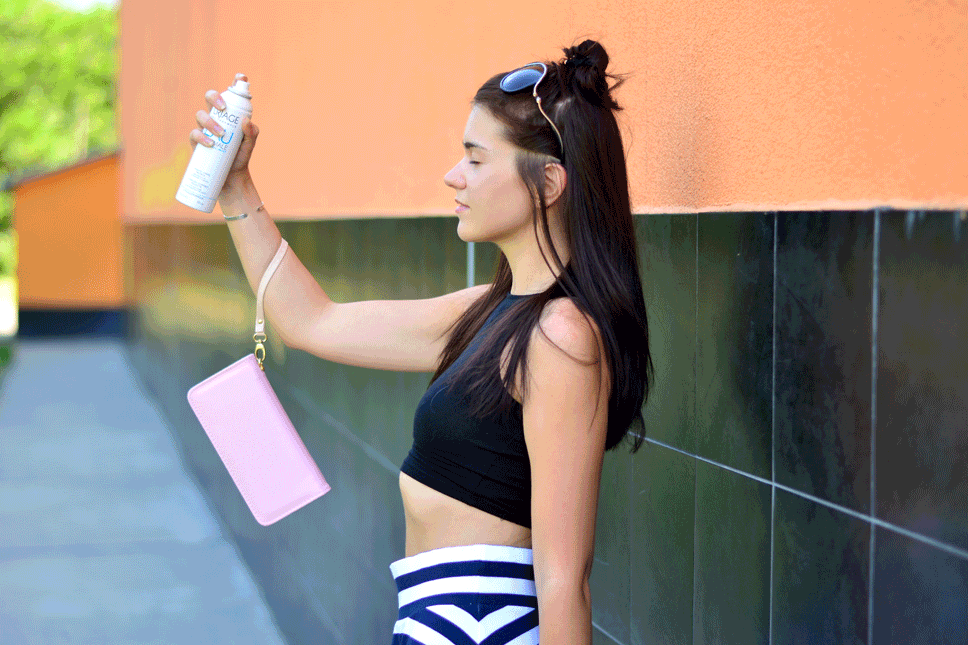 3. Без грим, моля! Избягвайте тежкият грим, ако имате възможност дори не слагайте. По-добре използвайте само хидратиращ или слънцезащитен крем. Не е нужно 24/7 да изглеждаме "перфектно", а всъщност да не се чувстваме така.

 3. Without makeup, please! Avoid cakey makeup, if you can don't use at all. Better put only moisturizing or sunscreen cream. Don't need to look "perfect", but actually do not feel so.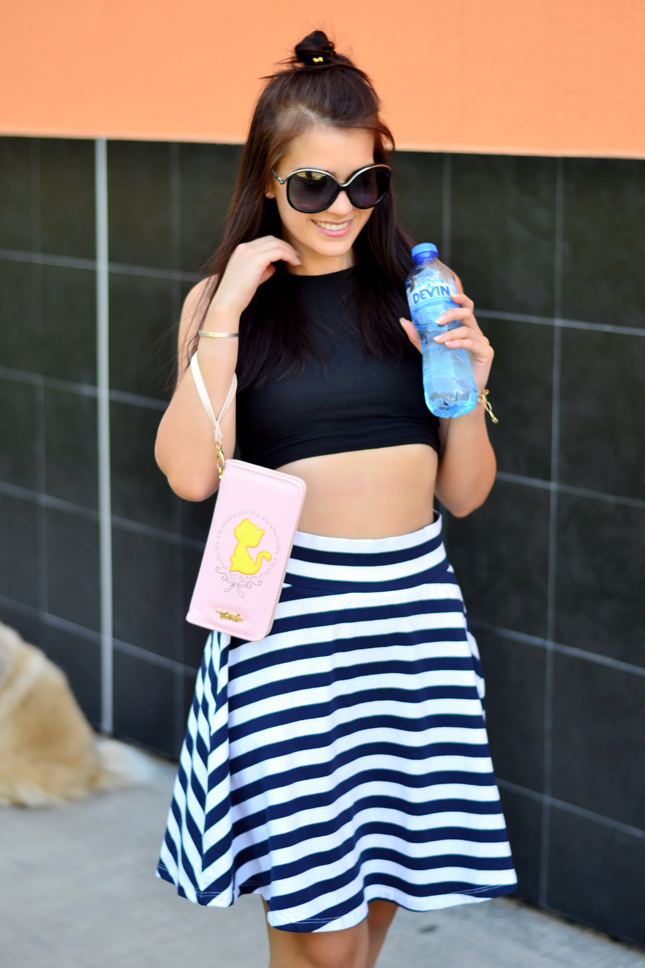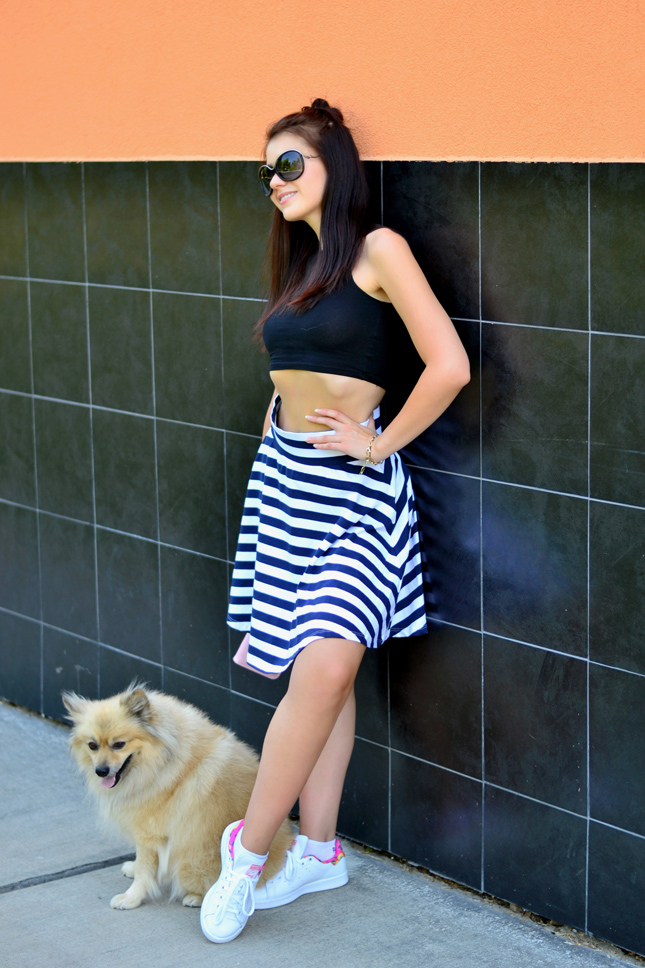 4. Дрехите. Поли, рокли, къси топове… Всичко, в което се чувствате удобно. Избирайте материи, които не запарват и кожата може да диша.

 4. Clothing. Wear skirts, dresses, crop tops … Everything in which you feel comfy. Choose fabrics to keep you cool and your skin can breathe.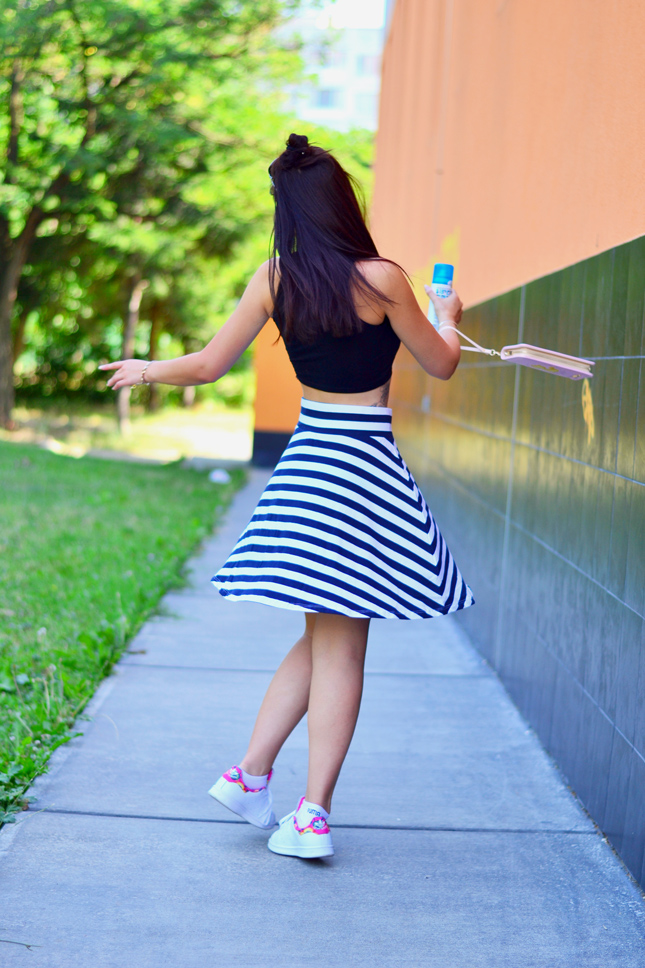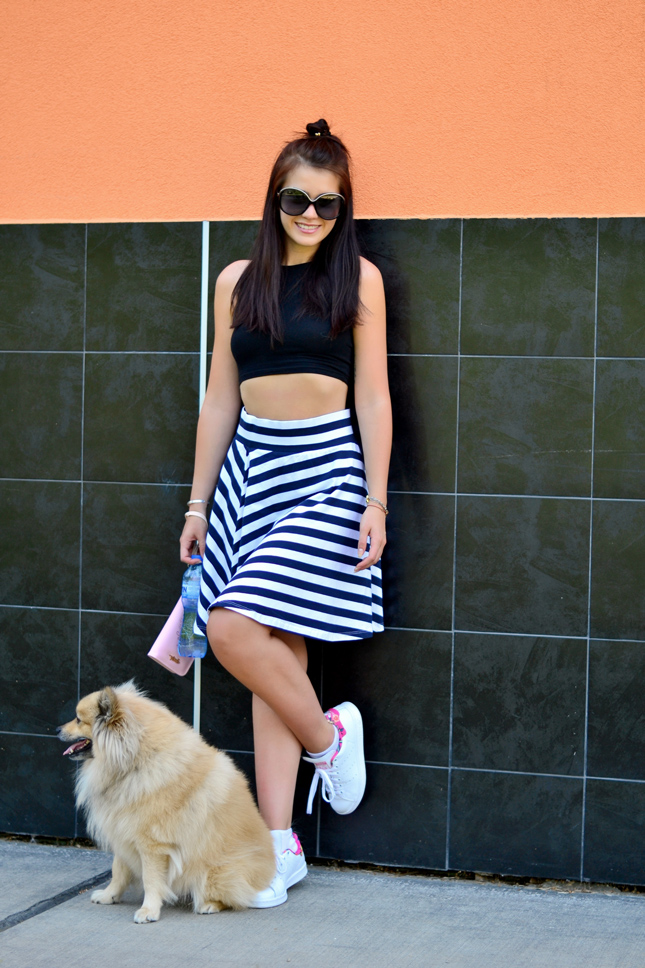 5. Или просто имате нужда от една студена бира…

 5. Or maybe you need a cold beer…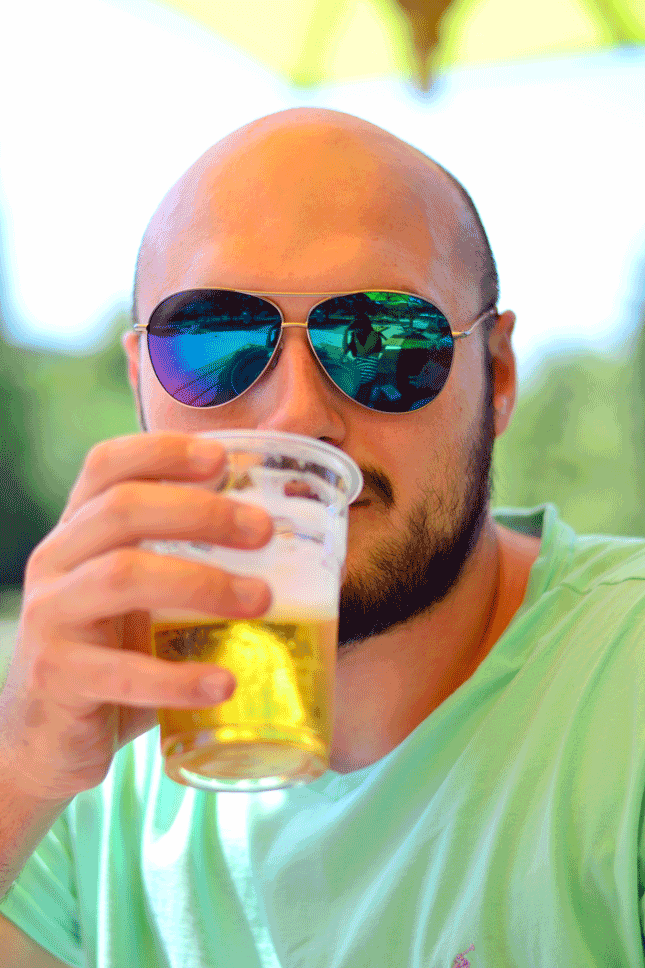 striped high waisted skirt Montego, crop top H&M, pink wallet Verde, Eau Thermale Uriage, white sneakers Stan Smith by adidas Originals, sunglasses Roberto Cavalli;