Здравейте, приятели! Дойде време да ви разкажа и за страхотния подарък, който получих за рождения си ден. Няколко прекрасни дни в любимата Италия. Обожавам Италия. Харесвам италинците, възхищавам се на стила им, традииците, кухнята, архитектурата, абсолютно всичко. Има места, които посещавам отново и отново и никога не мога да им се наситя. Този път имах възможността да се разходя из няколко града, в които не бях ходила до този момент. А най-хубавата част бе, че се настанихме до езерото Гарда. От няколко години обмисляме да направим екскурзия до Комо и Гарда, но някои други дестинации взимаха предимство и все си оставаше само желанието. Радвам се, че най-накрая видях поне едното, в цялата му прелест.
Като цяло времето беше с нас, ноо когато реших да снимам, естествено заваля дъжд.. Въпреки всичко, успях да се насладя на това невероятно място и да ви покажа няколко снимки на аутфита, с който бях на рождения си ден. Искаше ми се да съм с рокля, но определено времето не го позволяваше и трябваше да импровизирам с по-класически неща. Често това са бяла тениска и дънки, но в случая, трябваше да е една идея по-официално, за това винаги на път нося със себе си плисирана пола, по простата причина, че не се мачка и изглежда много шик.
Съвсем скоро ще споделя с вас и по-подробен травъл пост, в който разказвам за всички места, които посетихме. А сега нека се насладим на Garda Resort Village, наистина страхотно място за почивка.

 Hello guys! It's time to tell you about my amazing birthday gift. I spent few wonderful days in beloved Italy. Just adore Italy!  I like the Italians, I admire their style, the traditions, the kitchen, the architecture, absolutely everything. There are places I visit again and again and I can never get enough of them. This time I had the opportunity to walk through some cities I've never been before. And the best part was that we settled down to Lake Garda. From a long time, we want to take a trip to Como and Garda, but some other destinations took advantage. I'm glad I finally saw lake Garda in all its beauty.
The weather was with us all the time, but in the day that I want to shoot was rainy. Nevertheless, I enjoyed this place and took some photos of my birthday outfit. My plans were to show off with a dress, but the weather was cold and windy, so I improvised. Often I would prefer classic combo – white tee and jeans, but it was my birthday! I have to be more elegant, right?! So I put my fave pleated skirt and shined on this rainy day.
Soon I will share with you a more detailed travel post, in which I share all of the places we've visited. Now let's enjoy the Garda Resort Village. Perfect place for your vacation.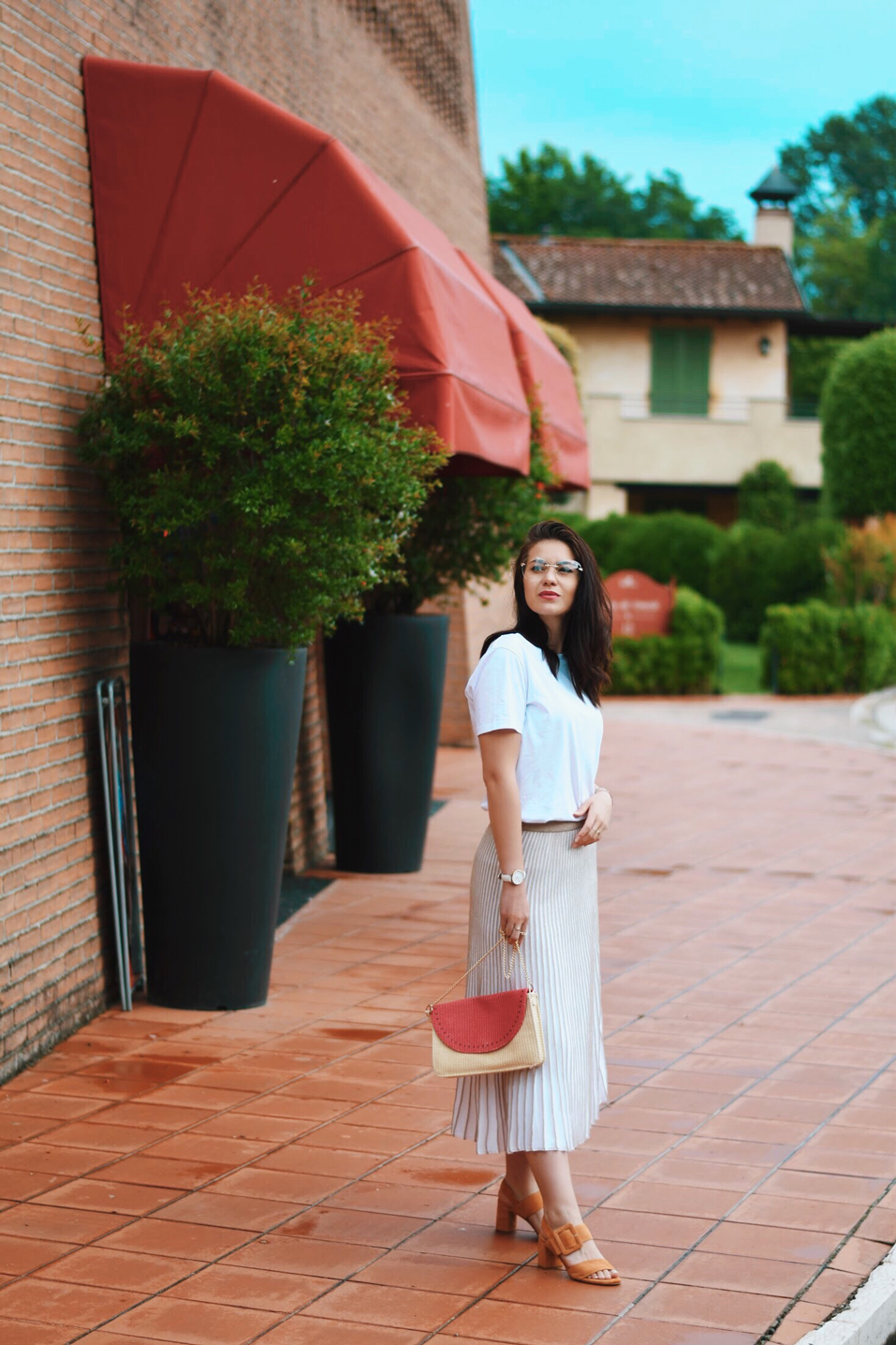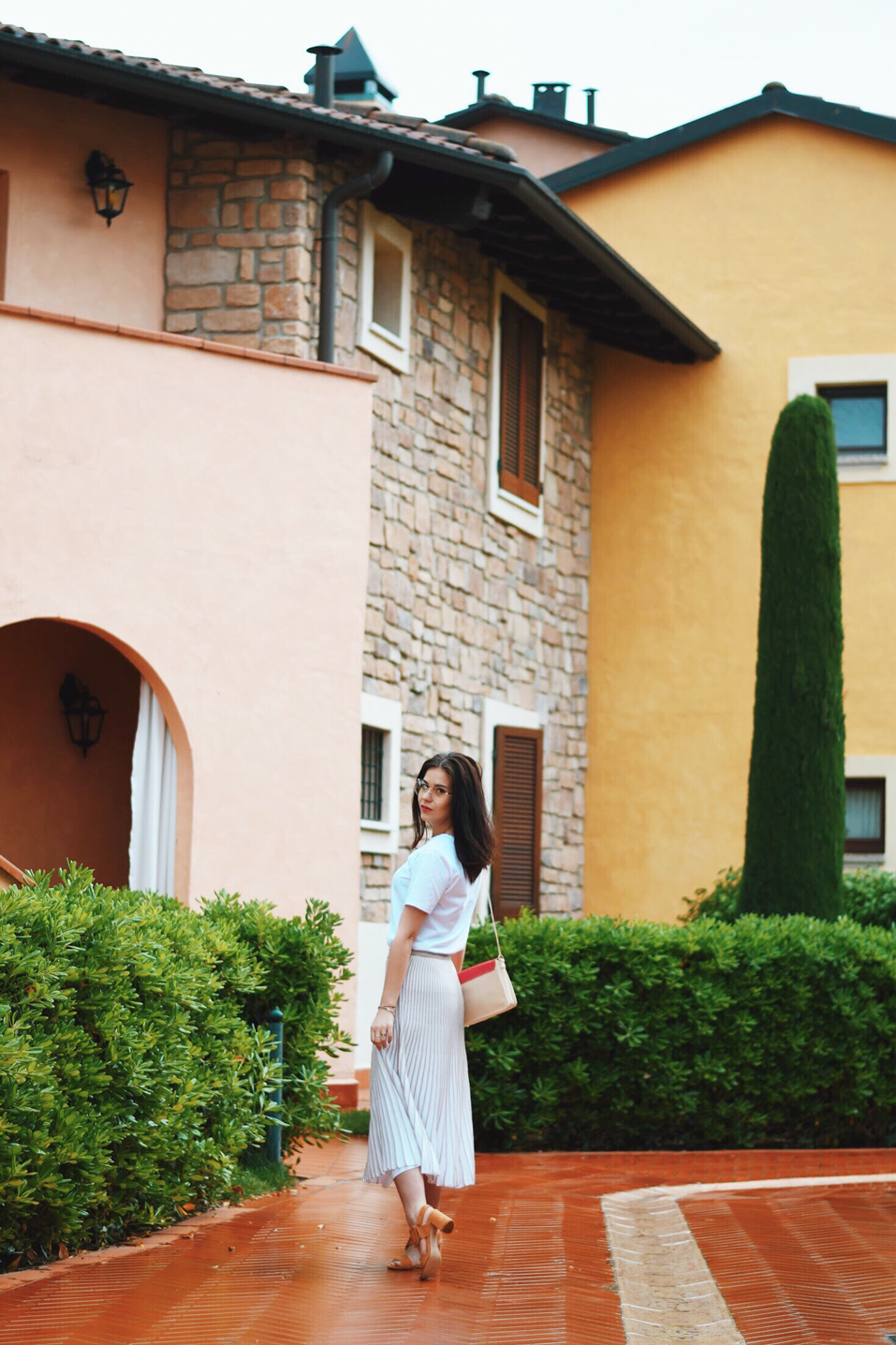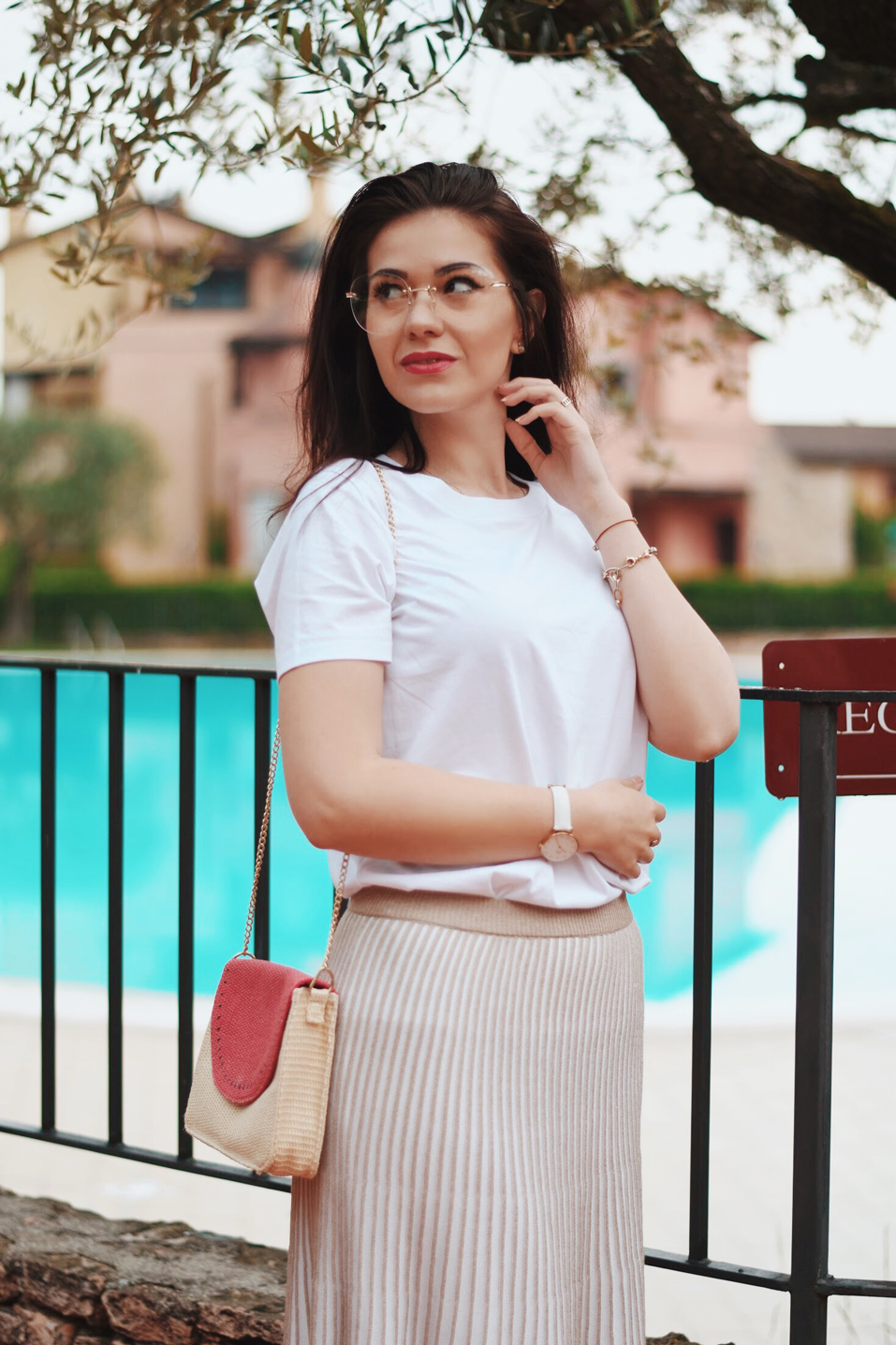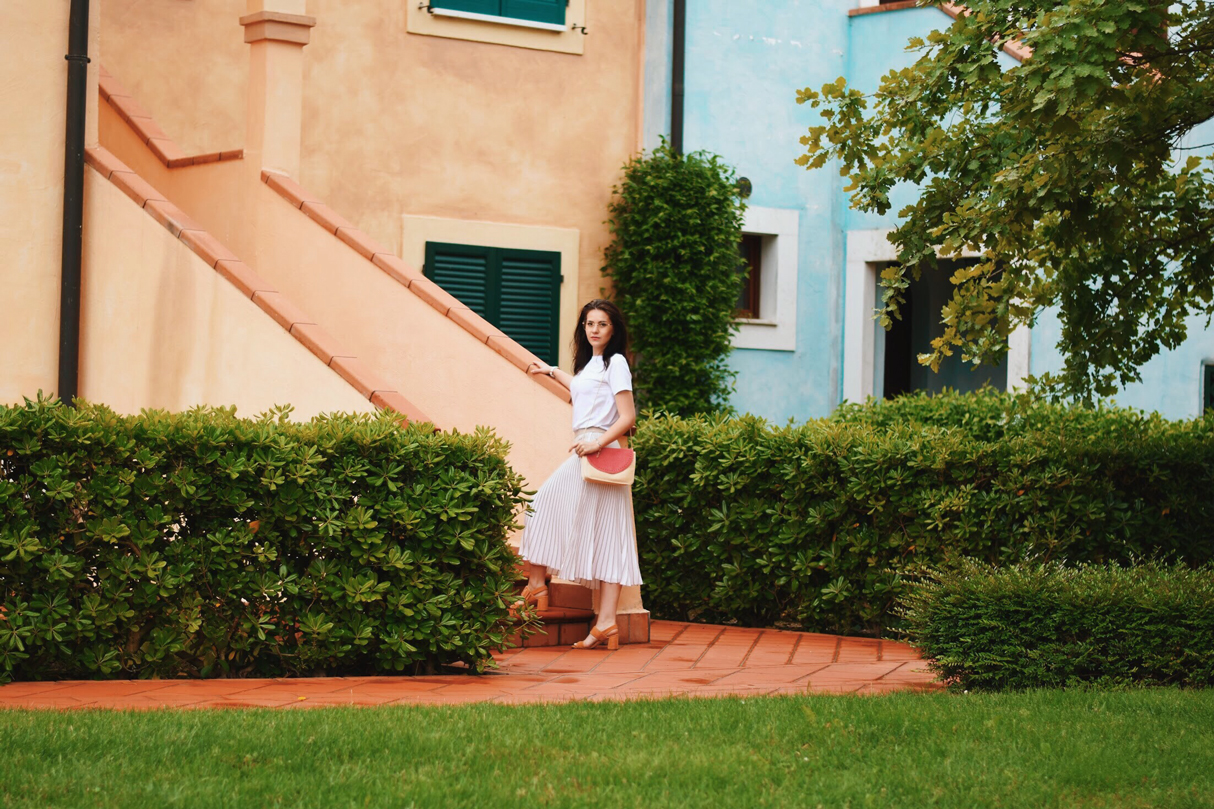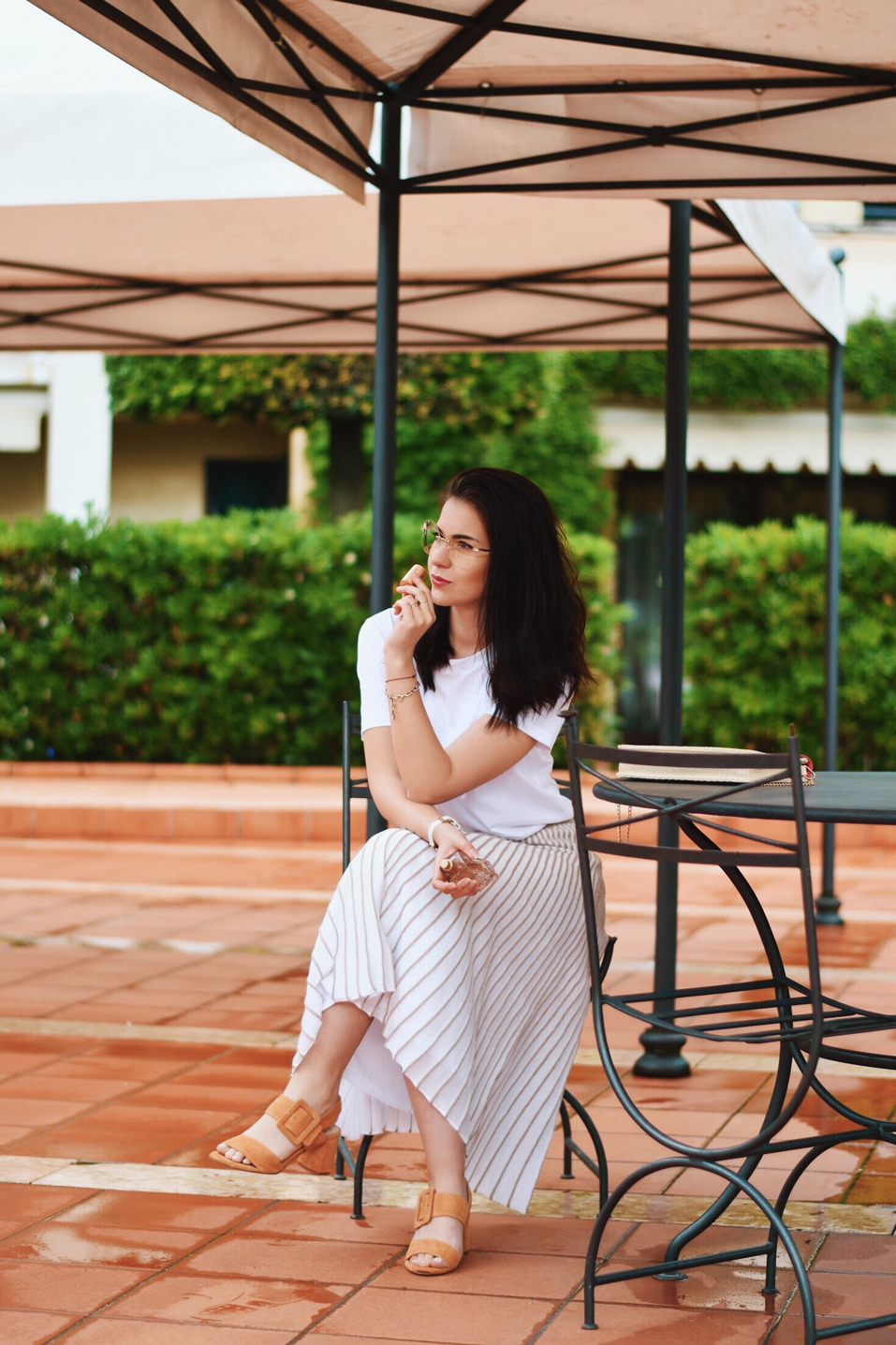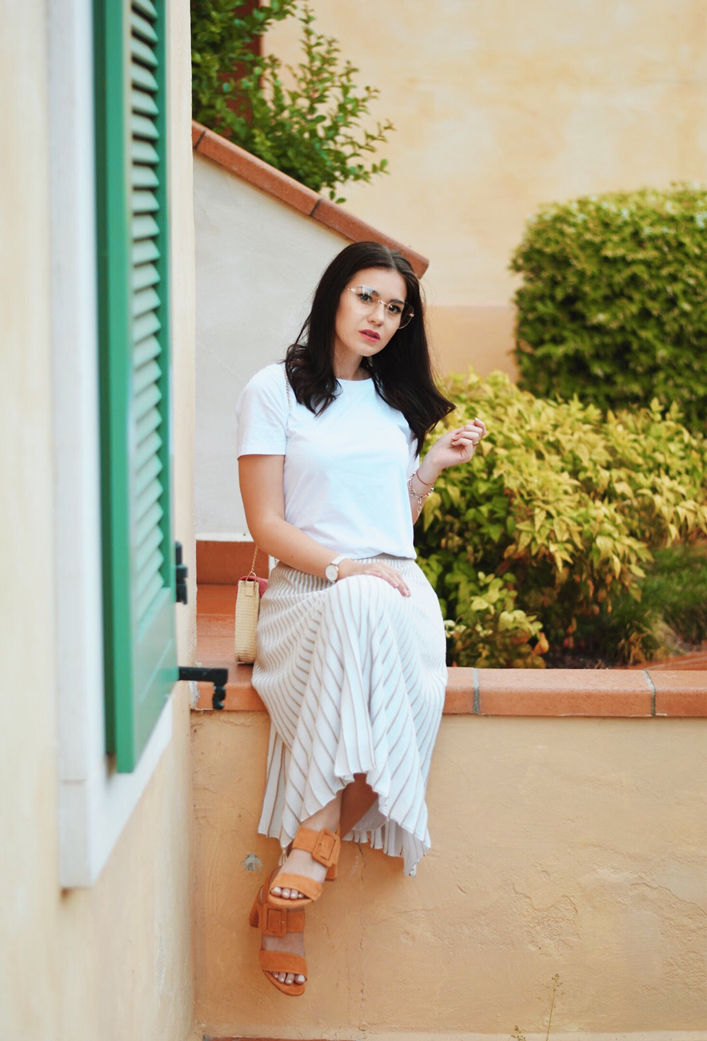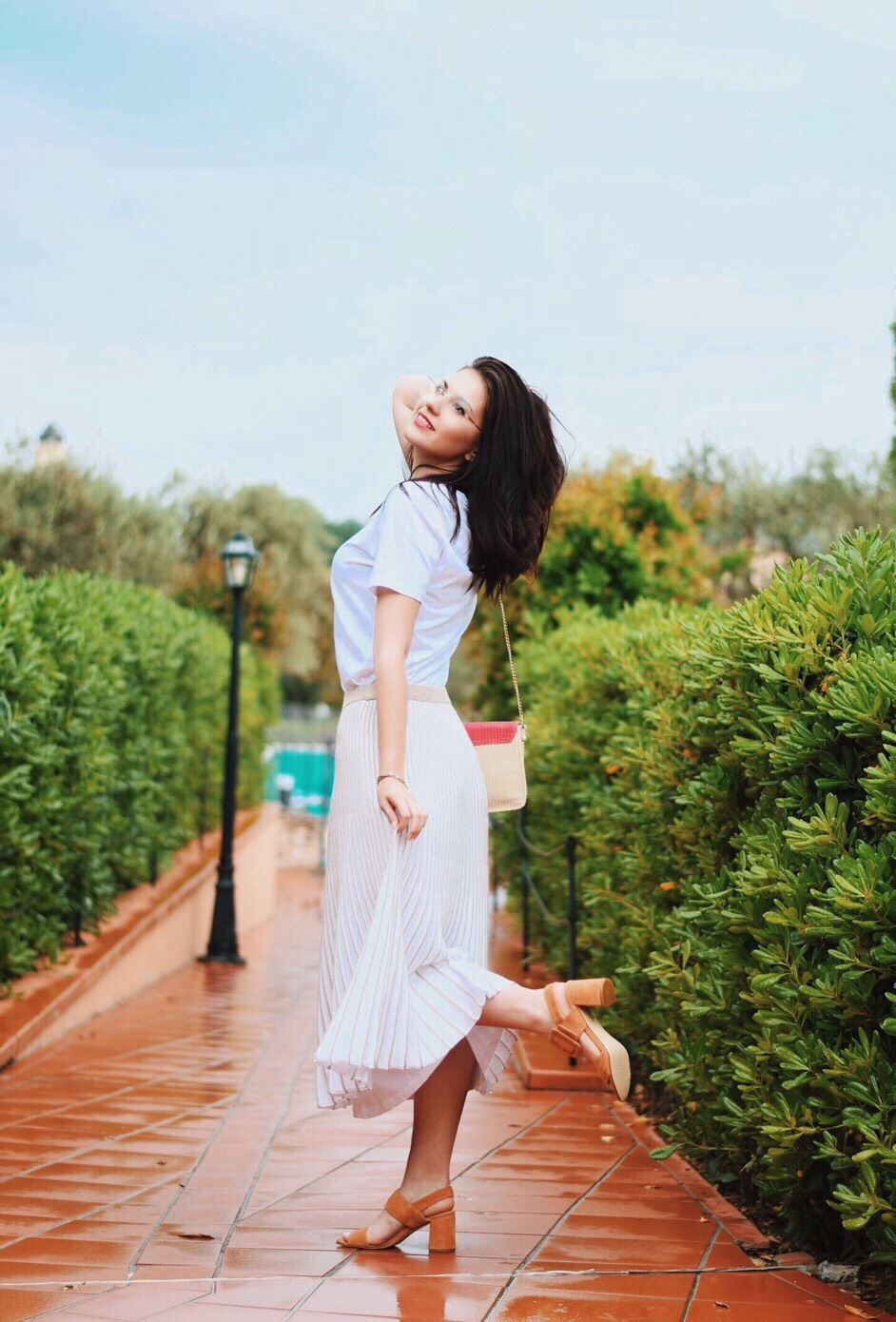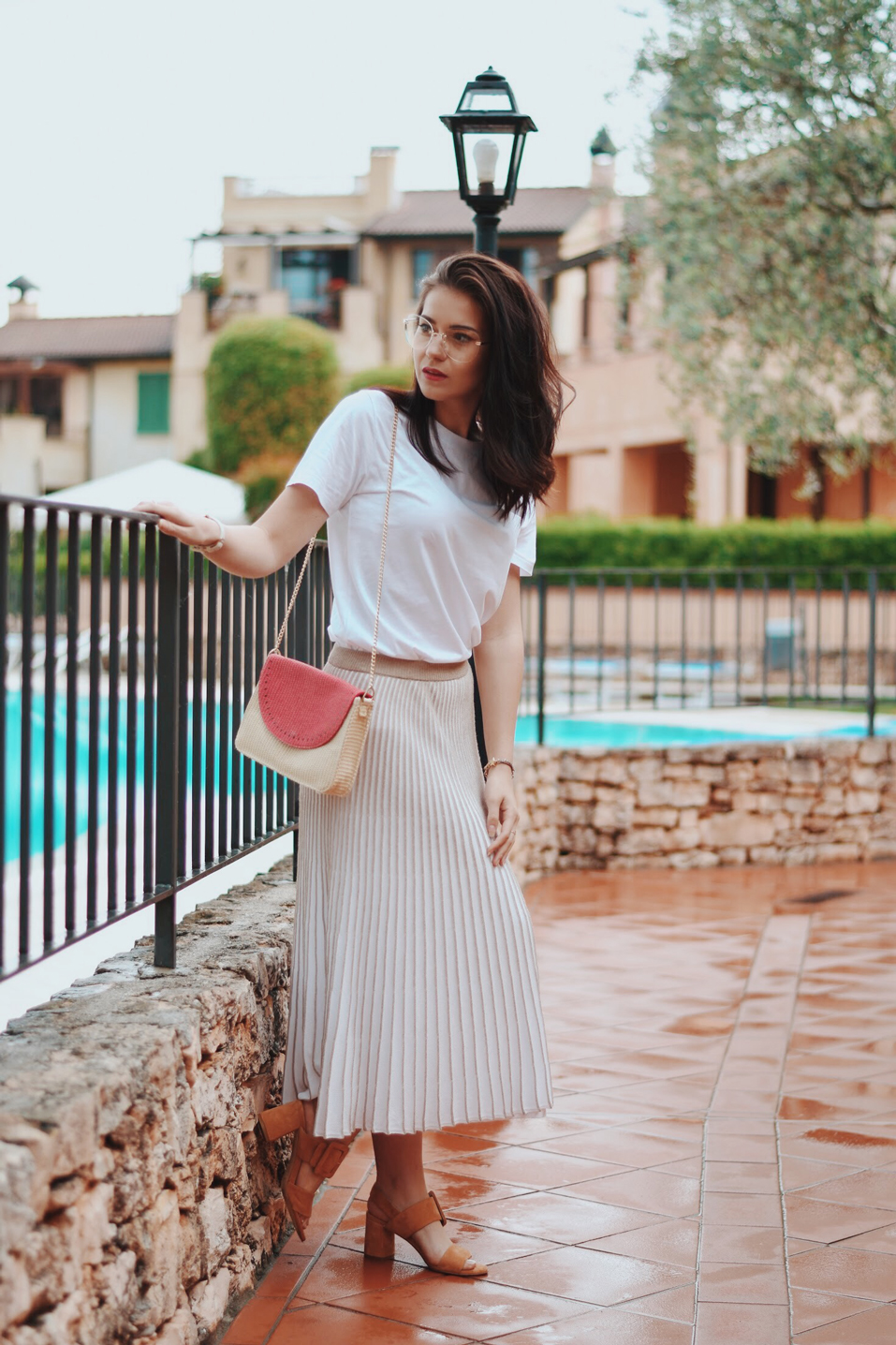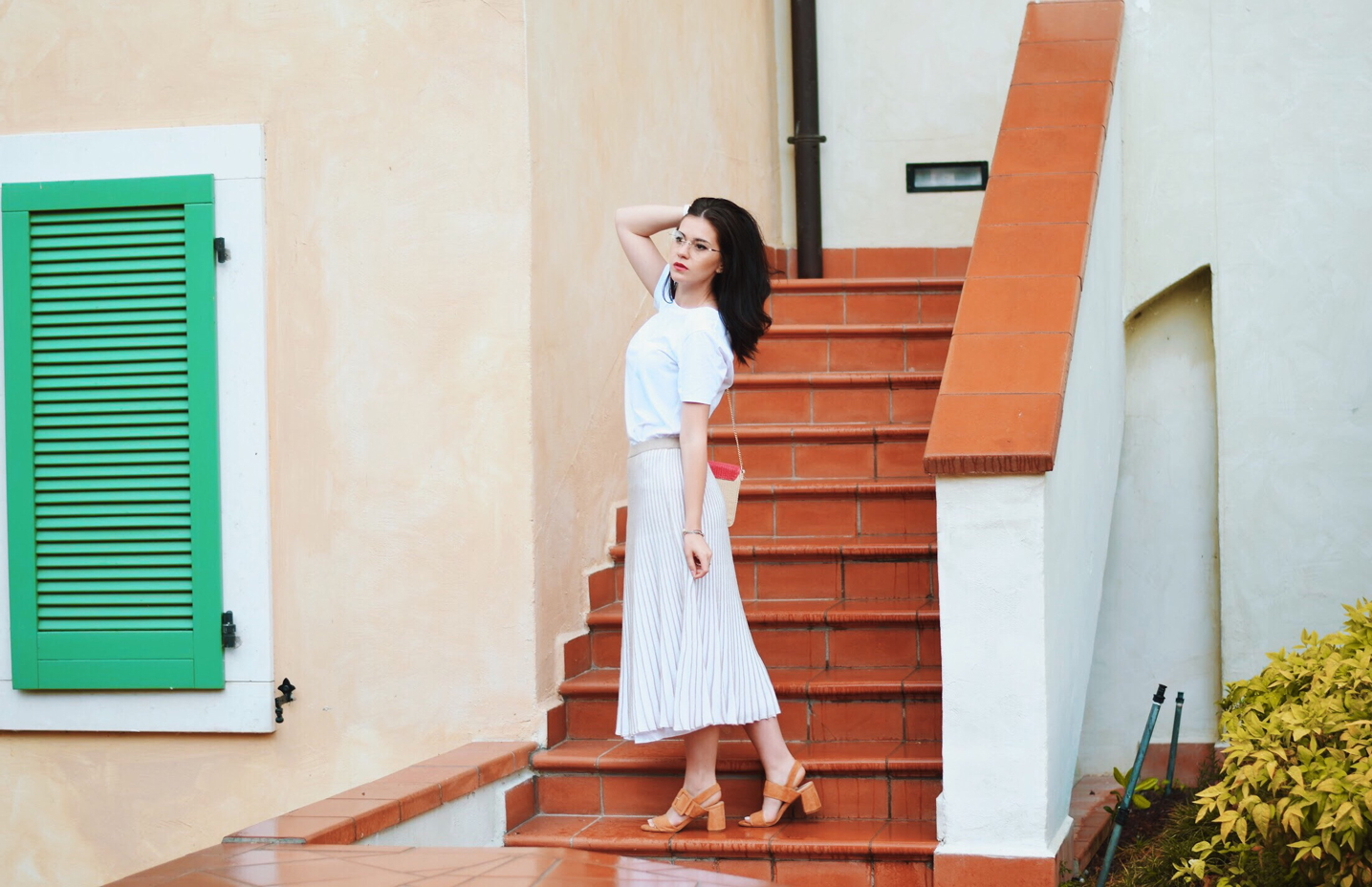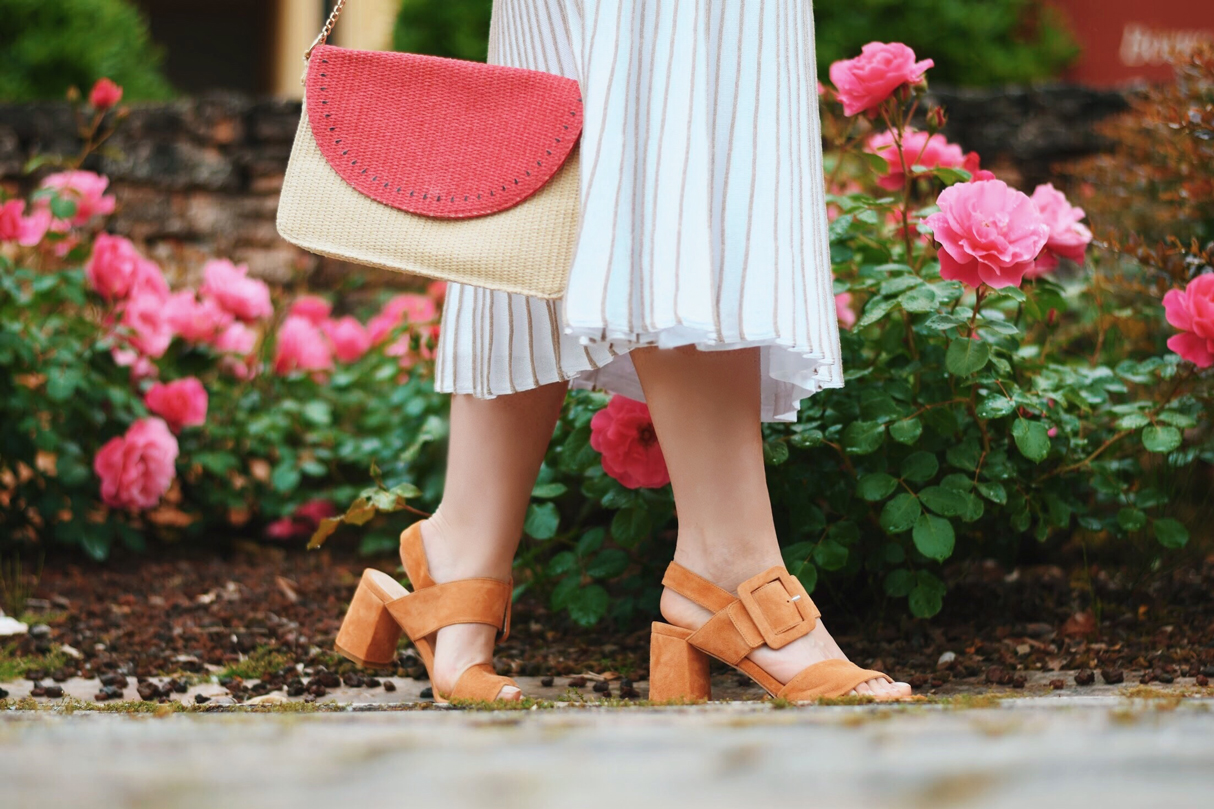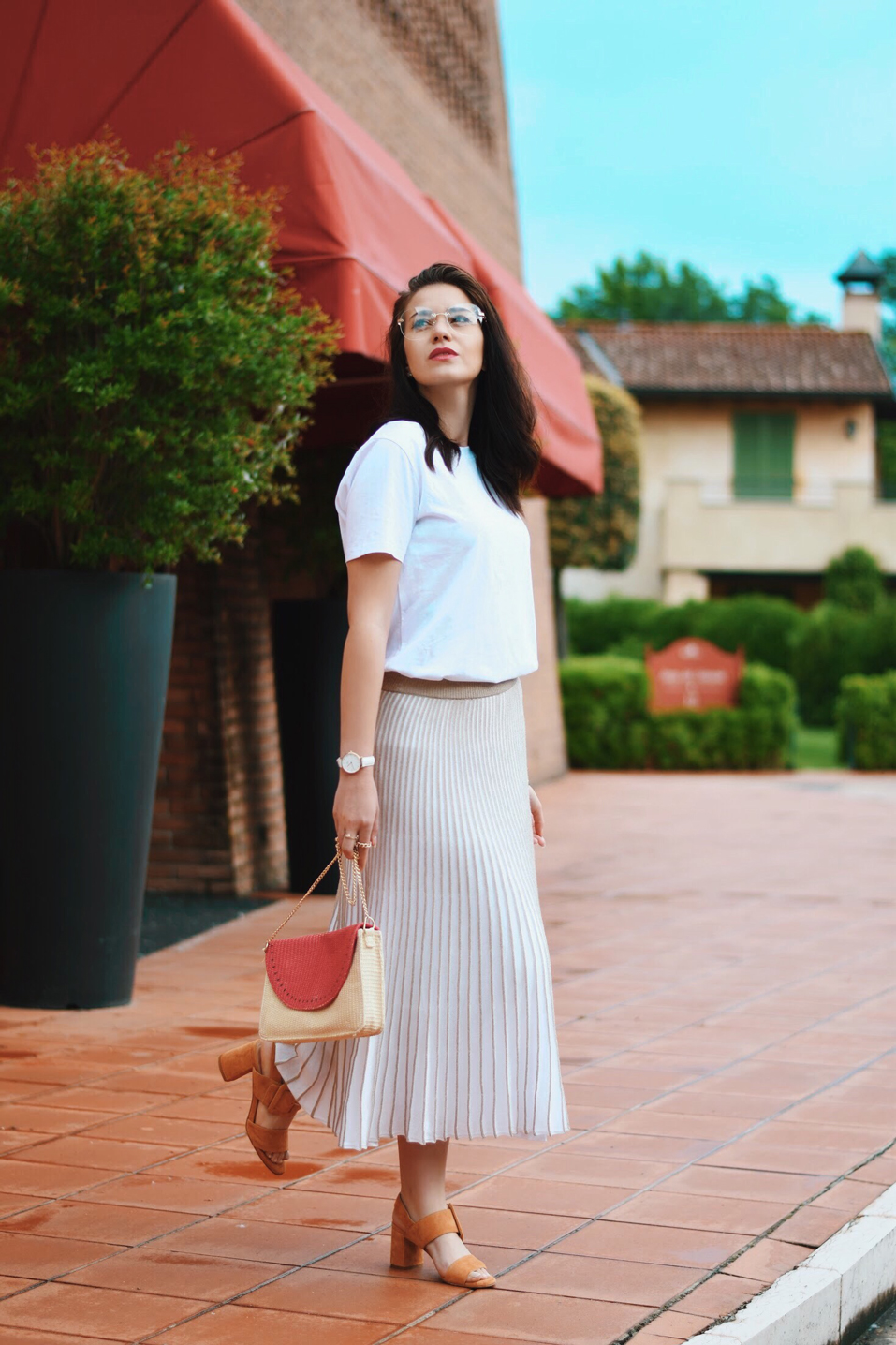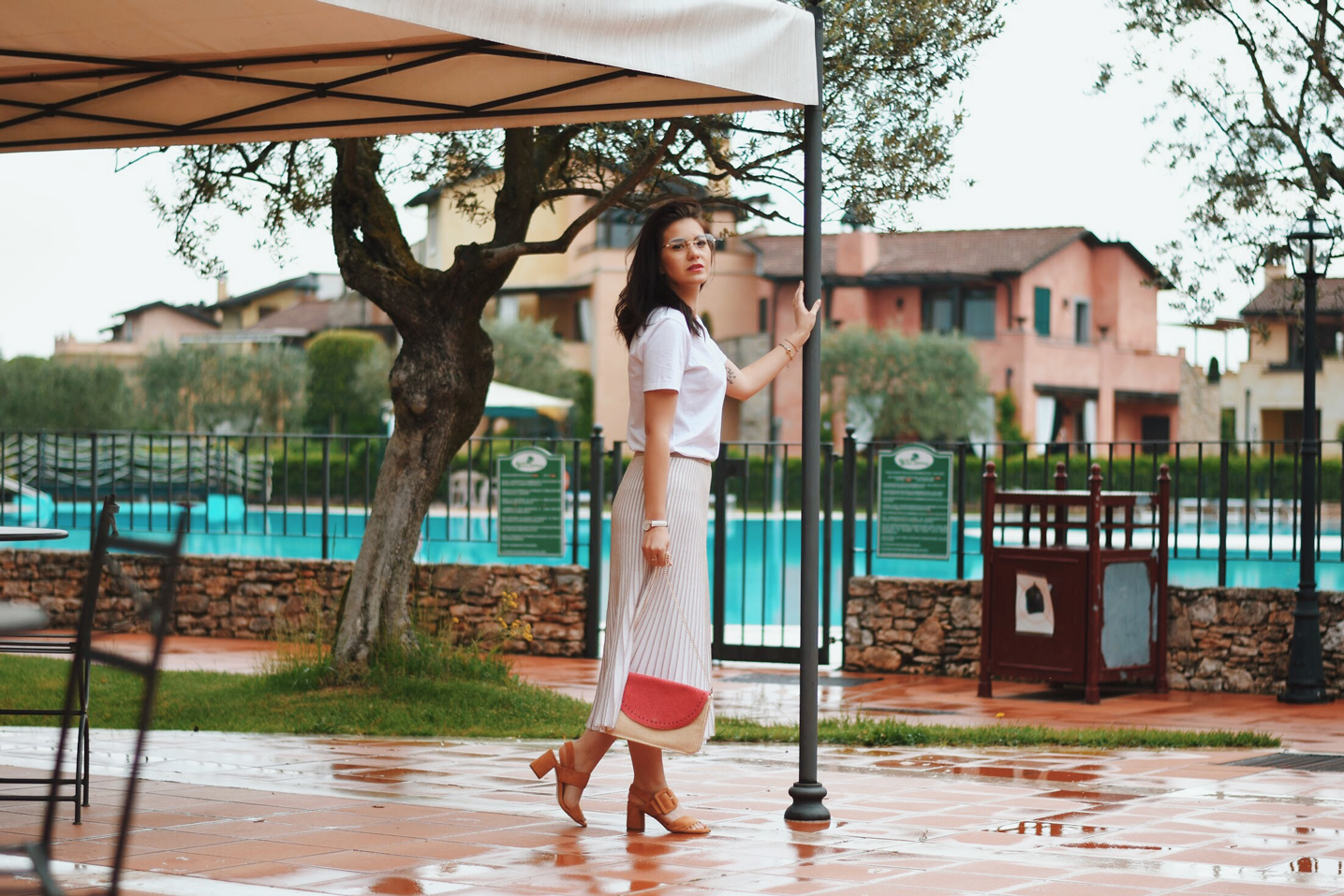 classic white tee COS, pleated skirt Massimo Dutti, bag Escada, watch Daniel Wellington, glasses Urban Outfitters,
sandals INGILIZ;
Location: Garda Resort Village