Здравейте, приятели! Напоследък все повече се интересувам от бюти продукти и споделям с вас неща, които наистина харесвам и ми действат добре. *Moroccanoil е бранд, който обожавам и винаги присъства в грижата ми за коса. Било то серията за обем, худратация, стилизиране и разбира се най-любимото олио за коса. От няколко месеца обаче реших да тествам серията Smooth.
Защо? В края на лятото бях поканена на процедура от бранда в салон Arlet Stars. Както обичайно (била съм на няколко такива) получих цялостна грижа и внимание. Аз съм с много права коса и винаги съм се радвала на този факт.  Желанието ми беше да постигна smooth-silky ефект. Падаща, гладка, без стърчащи косъмчета коса.. Оказа се, че брандът има точно такава гама от продукти. И разбира се имах възможност да ги пробвам там. Но след това се върнах към продуктите, които ползвах до момента и така и забравих за тази серия..

 Hello, guys! In the last few months I'm so interested of beauty products and I share with you these ones that I like the most. Today's topic is for one my favorite hair care brands – *Moroccanoil. I've used many products for volume, hydration, styling, finishing and the bestseller Moroccanoil Treatment original. For the past two months I testing the smooth collection.
Why Smooth? At the end of the summer I was invited for a Moroccanoil beauty procedure. As usual I've received the perfect hair care. I am with a super straight hair and always enjoy this fact. My wish was to achieve this smooth-silky effect. Falling, smooth, perfect straight hair. And Moroccanoil offers me the all of this with that collection. But after all I continued to use my old products and forget about it.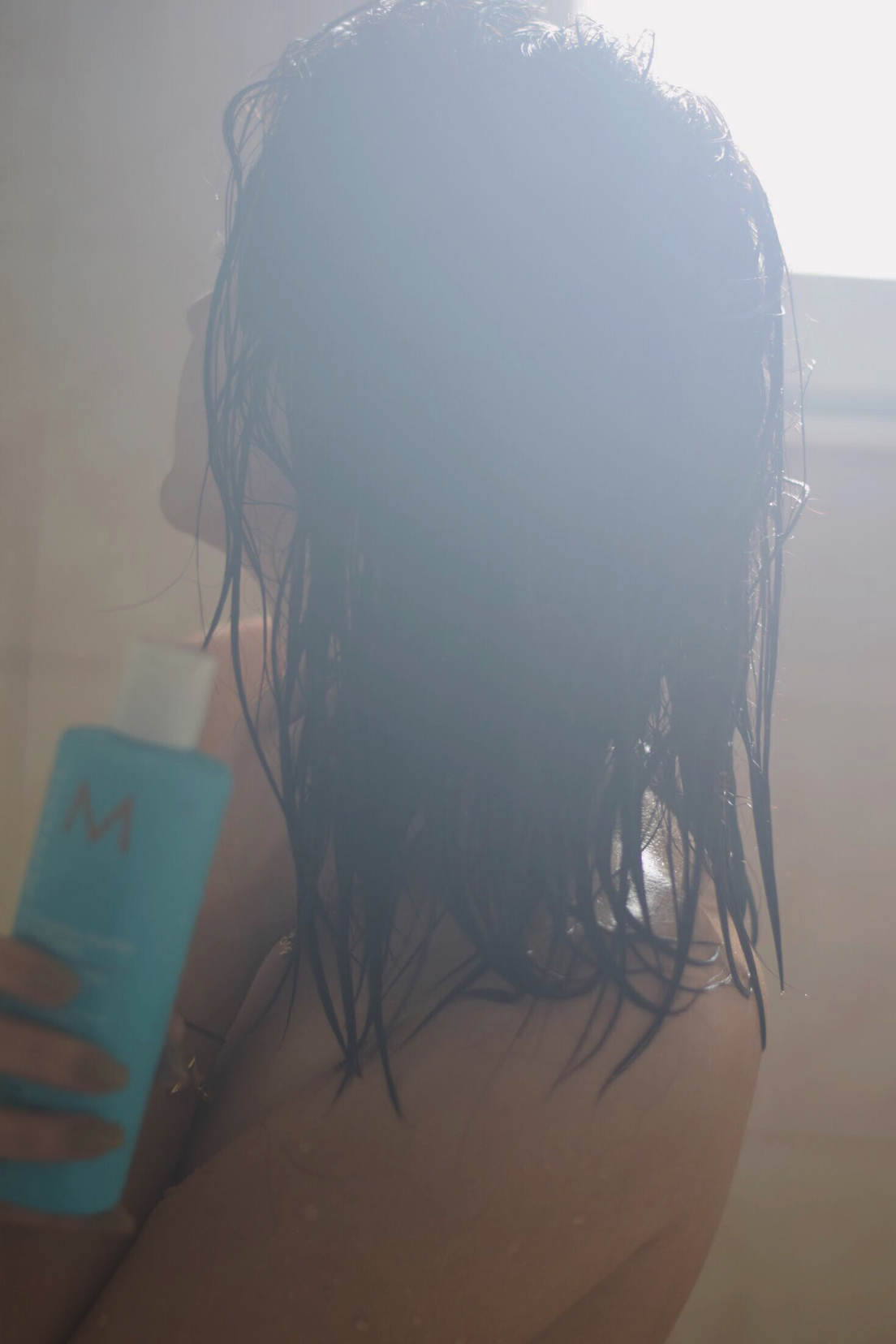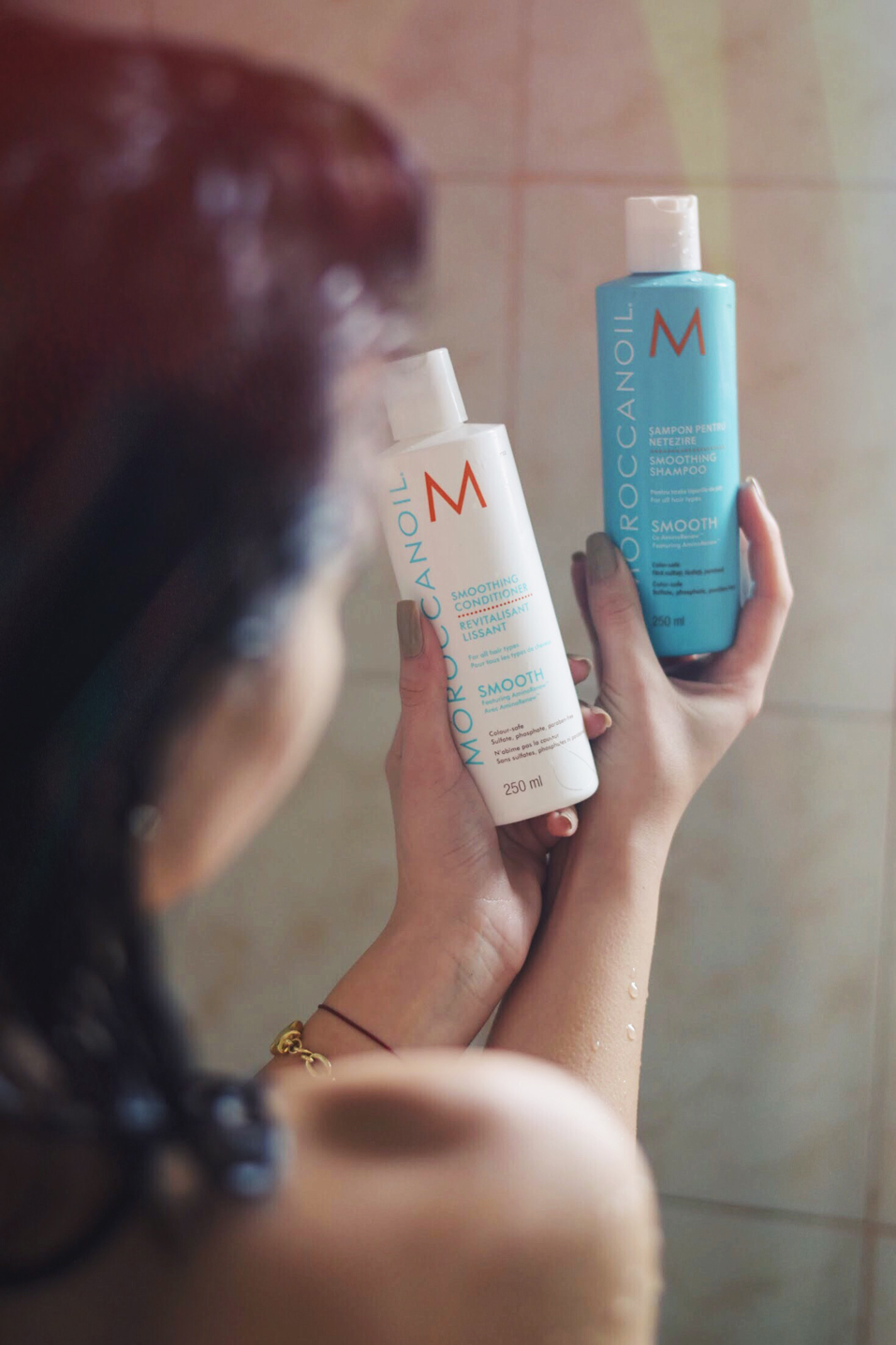 Косата ми обаче, растеше много бързо и за да я "сложа в ред" ми трябваше точно тя. Не след дълго вече я имах – шампоан, балсам и  серум за изсушаване със сешоар. Пишейки това, от почти два месеца използвам само тях. Шампоанът измива страхотно и още след него може да усетите как косата става гладка и перфектно права. Продължавам грижата си с балсам, който нанасям по краищата, изчаквам няколко минутки и измивам.

 But my hair grew very fast and "to put it in order" I just needed this collection. Not so long I already had it – shampoo, conditioner and blow dry concentrate. For almost two months ago I use them. The shampoo cleanses perfectly and you can feel the hair smoother and perfectly straight. After that I put the conditioner on the ends, wait some minutes and wash it. The result is absolutely amazing.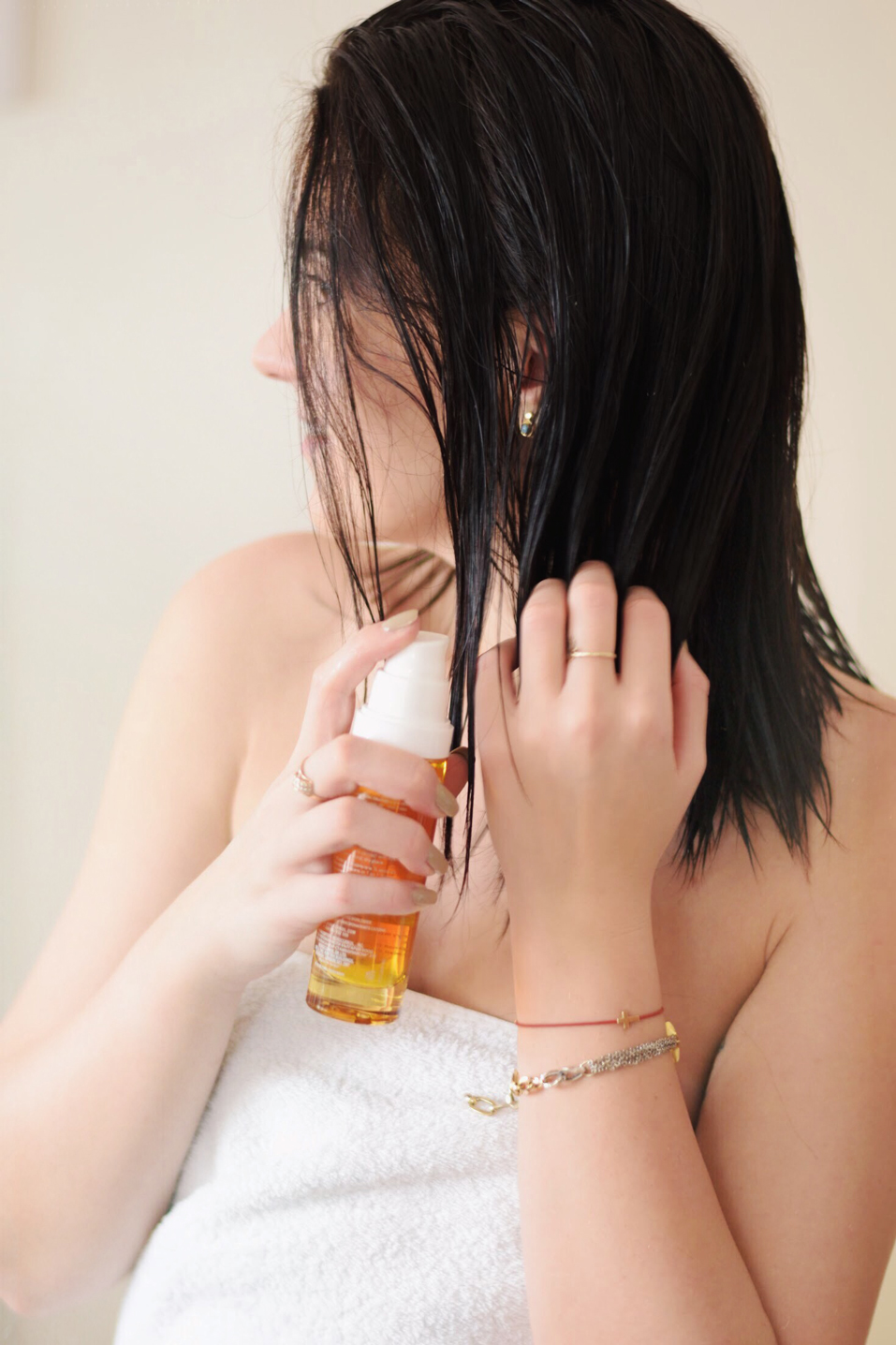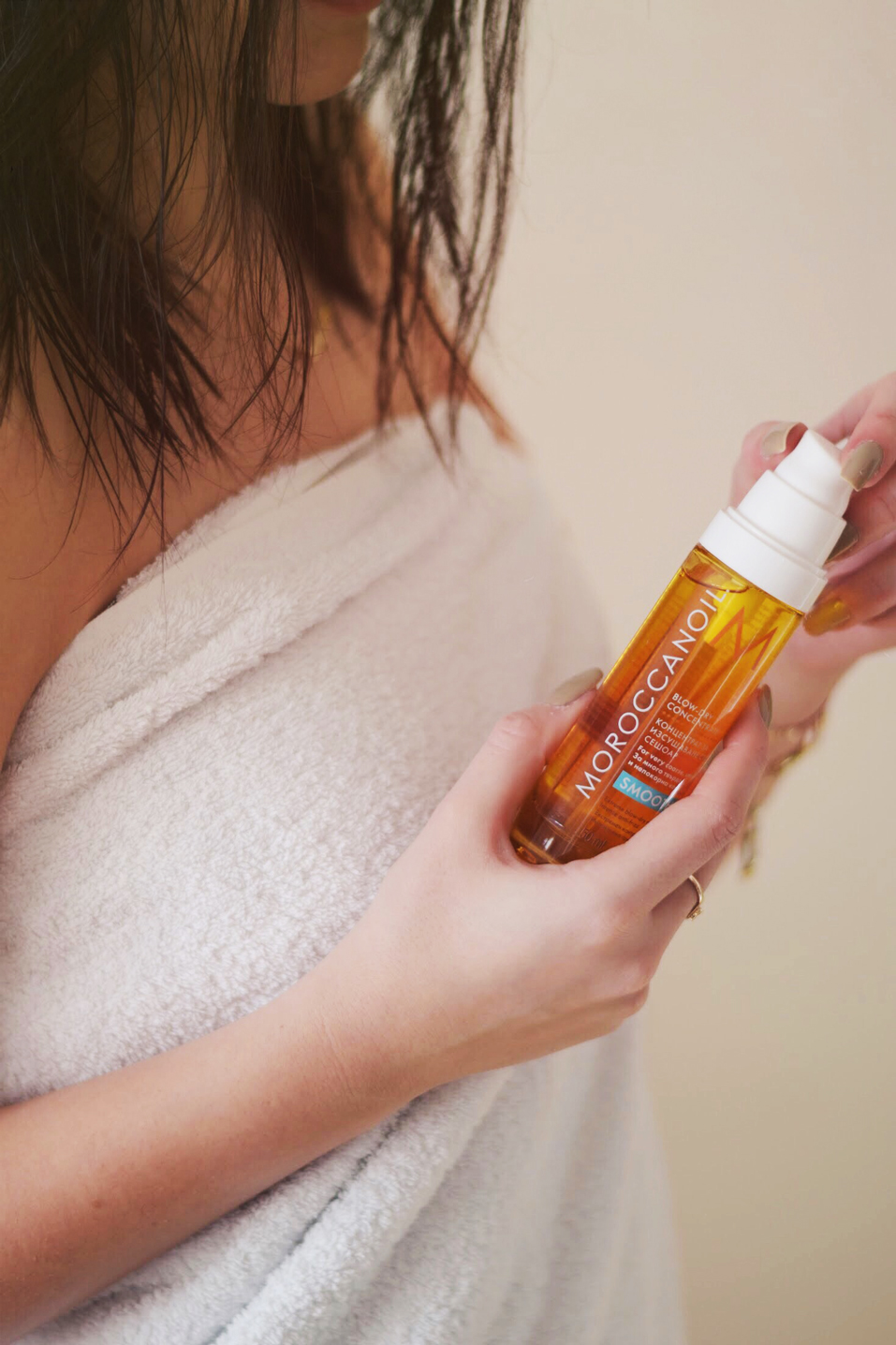 Продуктът, на който ще обърна повече внимание, обаче е серум за анти-фриз ефект, изглаждане, подхранване и блясък. Той съдържа чисто арганово масло, което спомага за подхранване, приглаждане и худратация. Идеален избор в борбата срещу "цъфтящите краища". Защитава от UV лъчи и външното замъсряване. Слагам на мокра коса и изсушавам. Продуктът е много икономичен. След изсушаване не се усеща на косата, по никакъв начин не омазнява и не утежнява. Взимайки серията Smooth, ви съветвам да не пропускате този продукт, тъй като е перфектният завършек на цялостния бюти ритуал за гладка коса.

 The product that surprised me the most is the blow dry concentrate. Creates a polished, ultra-smooth look with increased softness, shine and silkiness. Infused with conditioning argan oil and natural antioxidants. Perfect choice in the fight against "split ends". Protects against UV rays and pollution. I use it on wet hair before the hairdryer. If you choose the Smooth collection you definitely must to try it, because it is the best finish of this beauty procedure.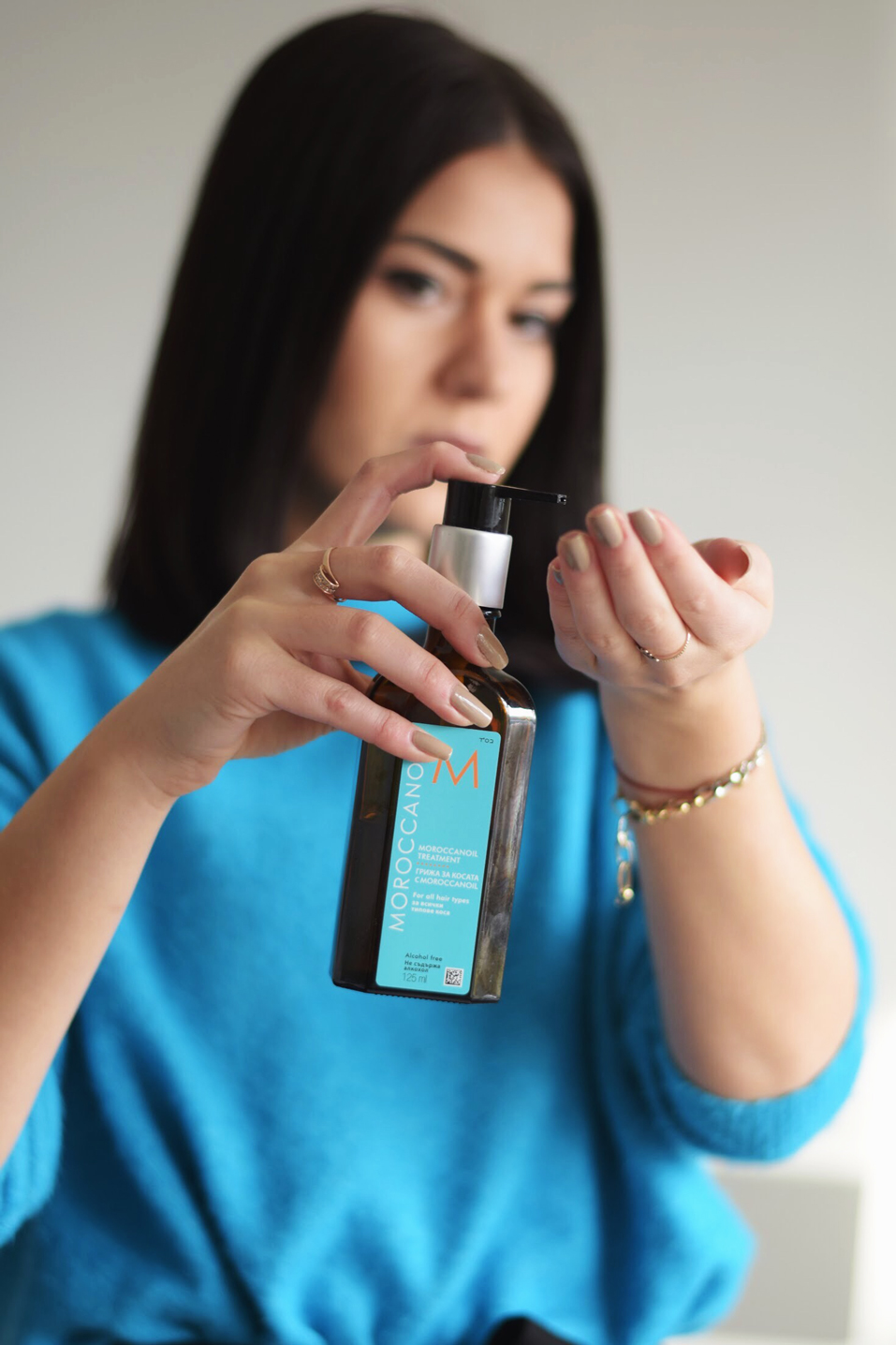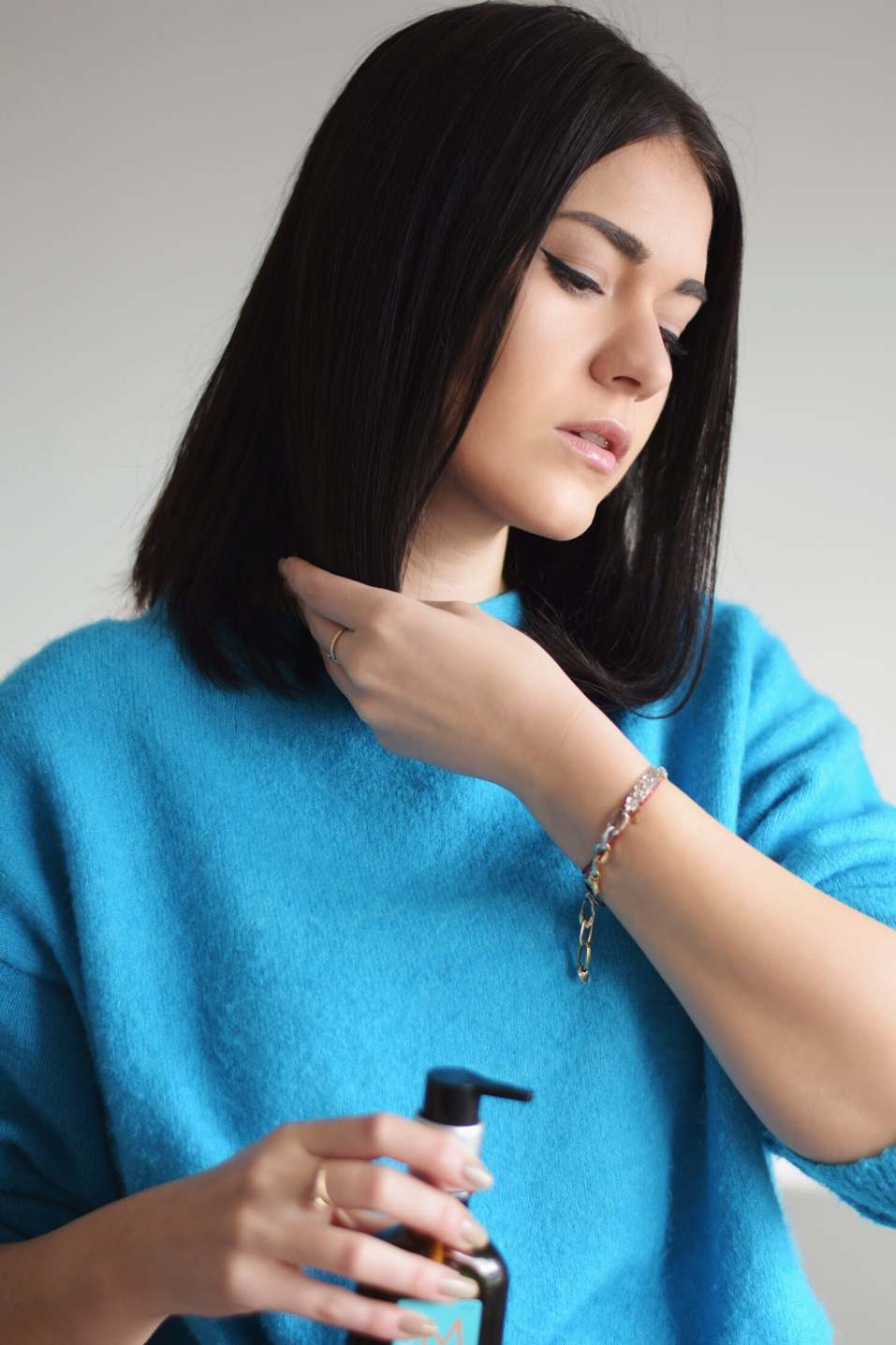 Абсолютният ми фаворит за здрава, блестяща и красива коса е Moroccanoil Treatment. Винаги и по-всяко време, когато трябва да "съживя" косата си, слагам няколко капки от маслото и излизам. Много добър избор и за стилизиране. Освен това, използвам по още няколко начина – смесвам с маска и оставям да подейства в дълбочина. Или слагам на мокра коса, олиото спомага за по-бързо изсушаване. Продукт, който познавам от близо две години и половина, и без който никога не съм оставала, дори и когато пътувам!

 My all time favorite product for healthy, shiny and beautiful hair is Moroccanoil Treatment Original / all hair types/. Any time when I need to "revive" my hair I put a few drops of it.  Great choice for styling and finishing. I use it also: mixed with a hair mask and let it work in depth or put on wet hair that helps to dry faster. The best friend of my hair for almost two and a half years.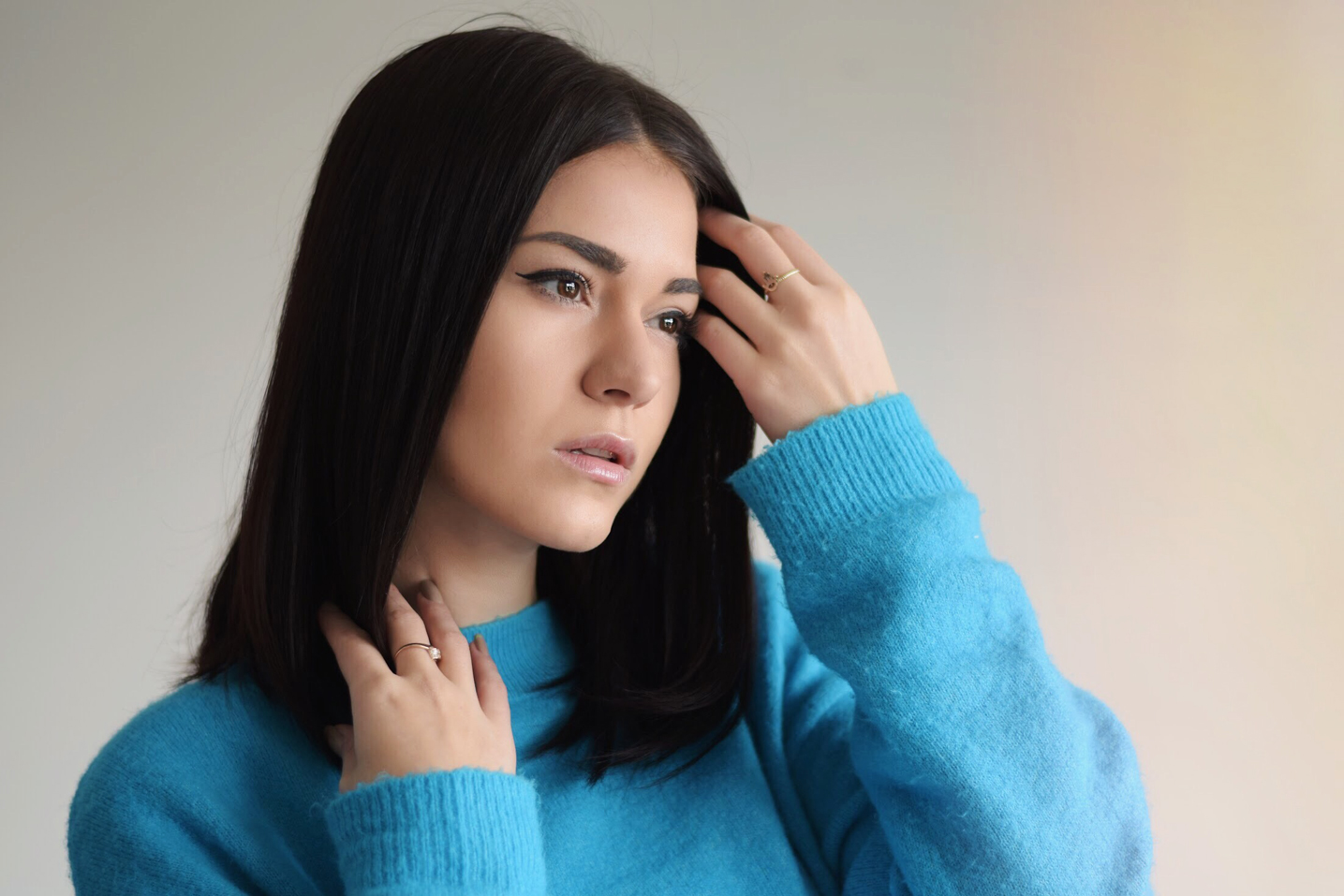 *in collab with Moroccanoil