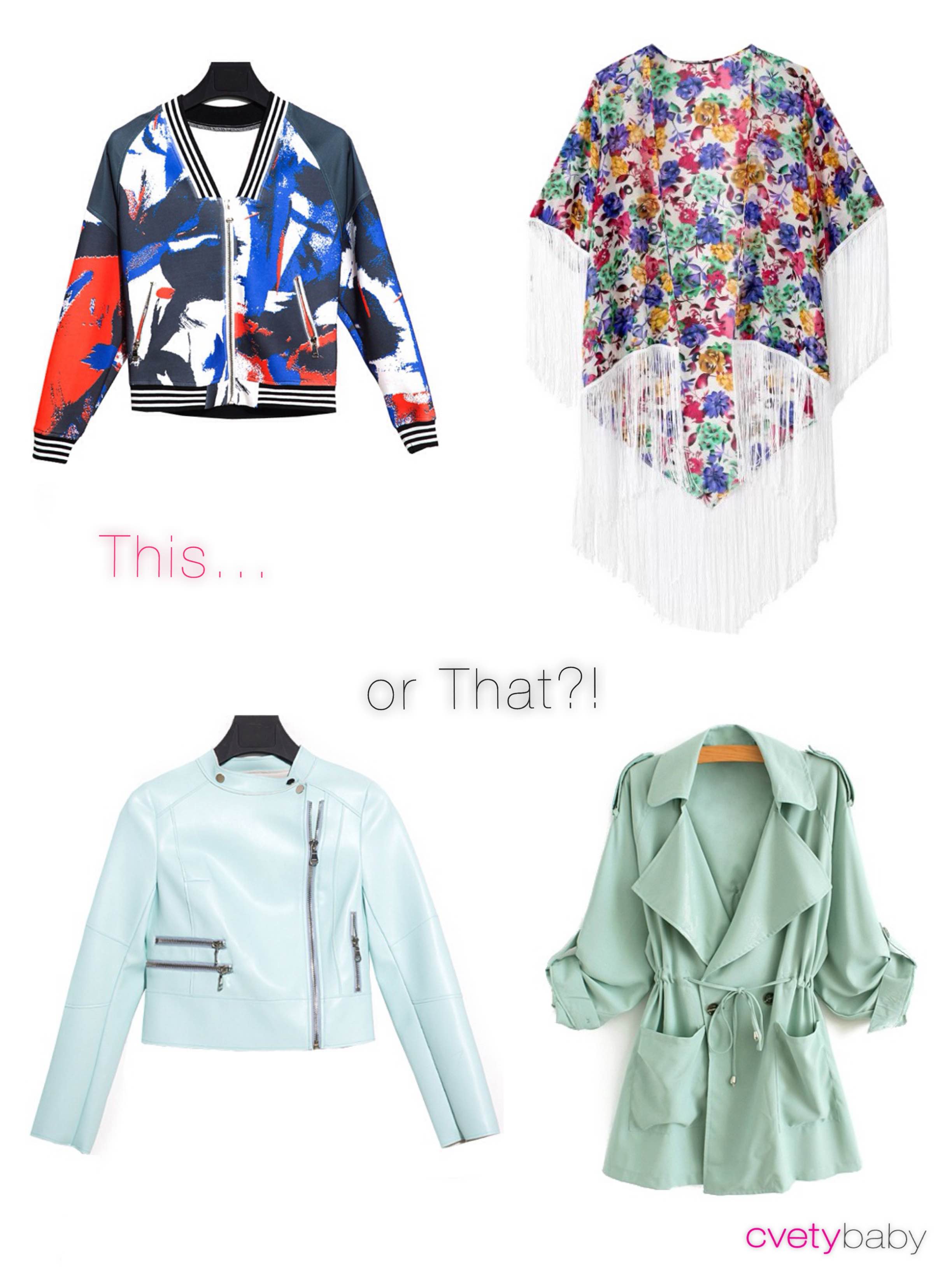 Hello, fellas, spring is here and we need to change our wardrobe. Today's topic is spring coats. Now you can to collect the heavy and thick winter coats and replace them with lighter jackets. Together with Zaful , we have selected several models that will be must have for the new season. Perfect for the free-thinking girls.

 Здравейте, приятели, пролетта вече е тук и имаме нужда от смяна на гардероба. Днешната тема е пролетни якета. Може да приберем тежките и дебели зимни палта и да ги заменим с по-леки такива. Заедно със Zaful сме ви подбрали няколко модела, които ще са задължителни за новия сезон.

 I start with bombers. Ideal for everyday or for a sporty vision. I would choose colorful models with print. Very fresh and extremely comfy. You can not miss this model.

 Започвам с късите якета бомбер. Идеални са за ежедневна или спортна визия. Aз бих избрала по-цветни модели със щампа. Много свежи и изключително удобни. Няма как да пропуснете този модел.

 And this year from the street style will not come out the trench coat. It is must have to your spring closet. The models are quite free, for me personally they look like a shirt. Lax and clean, but a freely falling of the body. Can be combined with everything. And bet on more colorful patterns.

 И тази година от градския стил няма да излезе шлиферът. Той е задължително допълнение към пролетния ви гардероб. Като моделите са доста свободни, аз лично ги оприличавам на риза. Не толкова строг и изчистен, а по-свободно падащ по тялото. Може да се съчетае с абсолютно всичко. Както и да заложите на по-цветни модели.

 The Kimono appeared last year as a hot trend and you can met it everywhere – as in fashion blogs, as in a street style. This is called boho chic. It comes from music festivals. Increasingly will meet these new trends in spring and in summer collections. Kimono can be combined with cool high waisted denim shorts, crop top and flowers in the hair.

 Кимоното се появи миналата година като горещ тренд и го срещахме навякъде – както в модните блогове, така и на улицата. Това е така нареченият бохо шик стил, който идва от музикалните фестивали. Все по-често ще срещаме тези нови тенденции както в пролетните, така и в летните колекции. Кимоното може да се съчетае с дънкови панталонки с висока талия, къс топ и цветя в косата.

 Leather jacket will never go out of fashion. Especially classic black biker jacket. However, we shall find its equivalent in so beautiful and hot for the season pastel shades. Recently, more and more conquering the fashion collections. Winter coats were among – pale pink and baby blue. Now carried in skirts, dresses, even in those so edgy leather jackets to make them gentle for the spring.

 Коженото яке никога няма да излезе от мода. Особено класическото черно biker яке. Обаче ще намерим и негови еквиваленти в така красивите и актуални за сезона пастелни нюанси. Напоследък, все повече завладяват модните колекции. Зимата бяха сред палтата – светло розово и бебешко синьо. Сега се пренасяват в полите, роклите, дори и в тези така дръзки якета, за да ги направят нежни за пролетния сезон.